Submitted by Barron Heating & Air Conditioning
It's been a full year since our worlds changed in so many ways. A year since schools closed, workplaces began shutting their doors, and the daily hustle and bustle stalled as people hunkered down in their homes. And as life as we know it came to a halt around us, our world at Barron was forced to adapt to continue to serve our community well. As an essential services provider our home services were—and are still—a necessity. A year on, that commitment has not changed. In retrospect, with 2020 now hindsight, it's clear this past year transformed not just what our customers needed but also our focus.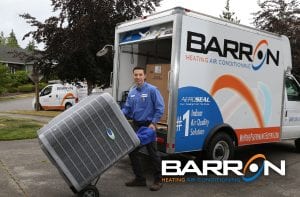 HVAC is still our bread and butter at Barron. Heating and air conditioning is essential to home comfort, especially as people are spending more time than ever in their homes. Our living rooms turned into classrooms, our extra bedrooms our offices.
From updating systems to provide the best comfort and energy efficiency, to servicing those that fail in the most inconvenient of times, our team has been there every step of the way. And while innovative HVAC solutions are now a given on most improvement project lists, indoor air quality—"IAQ"—emerged as the MUST have for the sanctuary-office-school-gym that has become our home. The health of our families and indoor spaces has never meant more to the neighbors we serve, and our Air Solutions Team has ramped up to provide impactful solutions like air duct cleaning and sanitization, duct sealing, and virus-killing air purifiers that clean up and keep external threats out of our homes.
Barron's electrical division has grown and adapted in these changing times, as well. Self-sufficiency has become the priority for many in our community, and as a result, both solar and whole-home generators are in great demand. "Going solar" is not only a gateway to an all-electric home, it also greatly reduces greenhouse gas emissions and is a major step in energy independence—reducing or altogether eliminating your reliance on the grid. Like solar, whole-home generators also have the appeal of independence while being a great investment in your home. And with Barron's almost 50-year reputation in our community, you can be confident we'll be there to support those investments well into the future.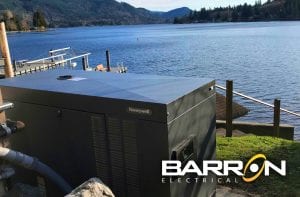 With almost 50 years in the service industry (we hit the half century mark in less than a year!), expanding our offerings to include plumbing was a natural development for Barron. From burst pipes to water leaks, sump pumps to fixtures, plumbing is one of the essential services that remains even when the world is on hold.
Our plumbing division has not only risen to service-related demands, but also to installation. As folks are shifting their focus to investing in their homes and families, that means providing energy-efficient heat pump water heaters, support for bathroom remodels, and outdoor fixtures (for those budding gardeners!).
Much like indoor air quality, water quality has become a priority for many, as well. Water treatment systems are proven solutions to combat bacteria, viruses, and chemical contaminants that can hide in your water, impacting both your plumbing system and health. And like generators and solar water treatment systems, it can provide a level of independence and security no matter what the world throws at us. Barron Plumbing's experienced team is well-equipped to serve this key factor of a healthy home, to improve the taste and quality of water you use to shower, wash your clothing, and more.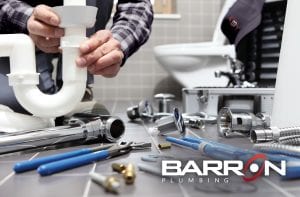 Finally, Firelight by Barron has continued to carry the torch of service, maintenance, and installation of beautiful and functional hearth displays that our community has come to trust. Quality family time has been one of the bright points of this past year, and perhaps a takeaway that people will hang onto as the world returns to normal. Family time has meant time spent in the heart of your home—with a board game in front of the fireplace, or in the backyard, sharing conversation around a fire. Whether it's through maintenance, upgrading, or remodeling, our team is excited to continue to be a part of however you choose to invest in your family and home.
A year ago, we were stepping into a spring of unknowns. It was home show season and a hand sanitizer shortage meant we scrambled to source bottles for giveaways at our booth. We carried on with services, installations, and maintenances, but who would have guessed how life would change?!
Twelve months later, it's home show season again, and however different it may look, we're excited to share a variety of specials offered through the SICBA Home & Garden Show. From generators and solar to indoor air solutions and ductless, we're excited to offer some great deals to invest in your home as you take on 2021.
To our community—thank you for allowing us to support you through the challenges of this past year. We're honored to be a company you can rely on and are driven to continue to adapt no matter what the future brings. We stand by Our Mission: Improving Lives™.