Bellingham native Autumn Mattson is a person motivated to make things. In addition to producing her own art and raising a family, she's also created the Rebel Artists of Whatcom, which brings together a collective of creators and hosts regular open-air markets in the heart of downtown Bellingham.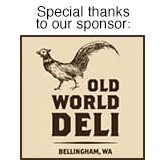 "I was born and raised here, and I've been making stuff for as long as I can remember. I grew up with a mother who was very supportive of my creativity. We weren't rich by any means so I just started making art out of whatever was around, finding new purposes for old things," Mattson says. "I lived in Portland in my mid-twenties, then I came back after I had my first kid. Bellingham is a really great place to raise a family."
As she took stock of the scene around her hometown, she saw a need to create more community. "There was a dwindling of collectives in Bellingham. When I started out, I noticed how many people were asking what I was up to, and wanted to be in on it," Mattson says. "And then I realized how much need there was for an 'easy in' for people to sell their stuff, and become more known through the markets, and throughout the community that we've created together."
She established Rebel Artists just as the pandemic shut most everything down, but she kept an eye out for opportunities. "A couple months into COVID, when the Holly Street Plaza was a thing, Lindsey [Payne Johnstone] from the Downtown Partnership sent an e-mail to a bunch of local artists and makers, asking if we wanted to utilize the space to keep a little bit of life downtown," Mattson says. "Later, she said she just had a few people coming and going, and it wasn't really structured. I told her I have a collective of people who want to vend, and she said she would absolutely love the help getting people involved."
Mattson was happy to bring her group into the plaza, where they could find an audience. "Then, when the city decided to open Holly Street to cars again, Lindsey emailed to say that Commercial Street Plaza was available if we wanted to use it," she says. Nowadays, the market operates there every Thursday and Saturday, from 3 p.m. to 7 p.m., and on the first Friday of every month.
A more permanent home has led to growth for Rebel Artists, and Mattson has been pleased to welcome some co-conspirators. The crew now includes a social media manager, Evan, who operates Ebog Arts. "I tried to do everything myself at the beginning and it was just too much," Mattson says. "Evan is an artist and puts his work on different things, like his frisbee golf disks and notebooks. And now he does a lot of the digital stuff, and the social media. His girlfriend, Sam, owns Moonflower Botanicals, and she makes soaps. Sara Slone, was just brought on as our person in charge for Thursdays. Her business is called Saffron and Sass, and she makes candles."
Along with Mattson's own Wild Hendrix Designs, which offers macrame plant holders and wall hangings, you'll usually find painter Donald Washington, the jewelry of GG Clay Co, and Mx Emily Carey's art and unique, handmade buttons. There are also "friends of the collective" who stop by from time to time, including the art and clothing offered by Pascal Foley's Healthy Kids Club, and Taj Williams' Zaps One.
There are a few tiers of membership for the collective: vendors can be included on the website, get mentions on Instagram, and be at the markets—or they can be online-only and Rebel Artists can advertise for them. "Or, you can pay to pop into individual markets," Mattson says. "One of our goals has always been 100% inclusivity—we want everyone to feel like they have a say, and be a part of something. I've been burned before, so I have all of these things that affected me personally that I didn't want to happen to other people. I want to go out of my way to make sure that everybody has a home with us. The more the merrier, I say!"
While a steady growth has been at the center of the Rebel Artists story so far, Mattson has decided not to push for more, but to enjoy the network of creatives that has evolved. "With everything that 2020 threw at us, it feels almost unrealistic to try to plan too much. Hopefully that will end soon, so we can all move along and start to make goals again," she says. "My main goal is just to keep having markets, keep connecting with people, keep doing what we love and keep supporting each other."