An interesting experiment is happening right now in Bellingham with bar and restaurant seating springing up in parking spaces outside of businesses in Fairhaven, and in the central downtown business district. The flagship for this new business model is the Holly Street Plaza, between Commercial and Bay, where the entire street is shut down to allow businesses to serve their socially distanced customers in the fresh air.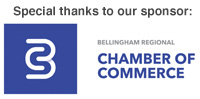 Charles Pasquier moved to Bellingham in 2012 to open Goat Mountain Pizza on that block of Holly Street. Pasquier and his business partner, Chas Kubis, replaced the popular eatery with the even more successful Black Sheep, and have just launched another new eatery, Lorikeet, with partner Brendan O'Neil. But just a few weeks ago, he wondered whether any of it would survive the global pandemic.
In early June, Pasquier talked about the future with Peter Frazier of the Leopold and Amanda Bettis from Temple Bar, wondering what it would take for small businesses to survive COVID. "It started there, hoping to figure out how to keep the local economy running into the spring, and maybe even coming out better," Pasquier says. The three walked around the area with folk from City Planning, City Council, and eventually Mayor Fleetwood. "We outlined the plan and how it would benefit all the businesses on Holly, Commercial, Grand, Champion and Bay Street." The City agreed, and the Plaza was born.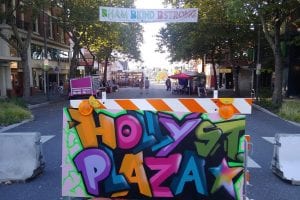 Just around the corner from Pasquier, Sam Giffin has opened Mt. Baker Media House, an audio-visual company that provides filmmaking services to local businesses and other groups from a Bay Street storefront. He caught wind of the Holly Street closure through business owners on the block he'd become friends with.
Giffin has previous experience with a street being closed to cars and opened to pedestrians. "Being from Boulder, Colorado, I immediately thought of the Pearl Street Mall, which is an amazing place downtown for businesses, and just to go hang out. When you go to Paris and walk by the Eiffel Tower, you don't say to yourself, 'You know, there should be cars driving here.'"
Giffin's media company doesn't really need a storefront, but he says it's a great way to attract business and to meet with clients. To make better use of the space—and have a little fun—he also got a beer license and moved in a ping pong table. Recently, he decided to share that sense of fun with the community.
"As the Plaza started to develop, there was a period where it seemed a lot of the businesses didn't really know what to do," he says. "I started putting the ping-pong table out there just to try and make it look like things were going on while the businesses figured out what to do with the space. What we've done since has continued to make things happen out there."
For his part, Pasquier has moved a vintage bus and a food trailer into the plaza. "It was originally my grandparents' bus that they road tripped around in. I thought, if someone wants to use these things to try to grow their business in the middle of all this, we want to give them to people to use."
The bus is now occupied by local entrepreneur Mo Green, and Pasquier couldn't be happier. "Mo's business is on a wonderful upward trajectory, and this allows her to keep moving forward in a positive way. And when she moved into it, that triggered another couple people to come, and they attracted another couple people, and it's really just organically grown."
These vendors have been a welcome addition to the existing brick and mortar businesses, and the ones just getting started. "There was a point where it seemed questionable whether this would work," Giffin says. But then 542 opened, Jack's added an outdoor space and Camber expanded theirs. "They all connect. We've set a certain style, and it's really turned into a great strip of expanded business."
Sticking around is foremost in Pasquier's mind. "If we hadn't done this, these businesses wouldn't be operating right now. It would just be a ghost town," he says. "Now it's a neighborhood that's taking care of itself. We clean up after ourselves, we do landscaping and plants, and we built these structures to have the chance to continue on through the winter."
And there's another facet of the plaza that Pasquier loves. "We see the weight lift off people's shoulders when they come through the plaza, the smiles of people riding bicycles to come down here. Families with kids walking through here—it's a really positive experience," he says. "You know how dark winter gets. Now we're looking forward to everybody sitting outside with heaters and lights, in an environment that makes us feel good."