Jessica Olson has always loved art, from the youngest age she can remember. "I've always enjoyed working with whatever it is I have, whatever's near me," she says. "When I was a senior in high school, four out of my five classes were art classes: two ceramics classes, a mural painting class and a senior portrait class."
Born and raised in Spokane, Olson moved to Bellingham when she was 19 years old. She describes our corner of the country as a wonderful place to be an artist—the occupation she's been working toward her entire life.
Olson traces her love for blending different media and styles to the resourcefulness she learned growing up without much money. It was a habit that would serve her well as she found her footing in the world.
"After high school, I continued to do some art, but just got lost in the throes of life," she says. "I found myself traveling a bit, and working really hard and playing really hard. I always had the dream that I would make and sell art, but for some reason it didn't seem attainable. That just seemed so far-fetched—who makes money doing art? Who gets to do the thing they love?"
Over time, that love of art she'd always kept on the sidelines moved more and more to the forefront of her life.
"For a while I was designing and selling children's clothing, and also making jewelry and selling it to art galleries," she says. "I took a weaving class, and then fell into photography, something I've absolutely loved and done professionally for 10 years now."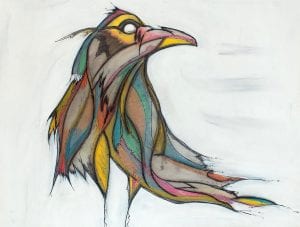 But it was an entirely different twist of fate that brought her back to working on canvas, and led to her life as a professional artist. "About six years ago my mother fell ill, and I was traveling back home every weekend to be with her," Olson recalls. "My mom was my best friend, so obviously I had a lot of emotions about it, and when I had to come back to work, I started painting."
Some of her friends appreciated seeing her process her pain in this way, so she started posting pictures of her projects on social media, including her Instagram account. "I feel like it's really important to be really open about that, because sometimes it's so taboo in society. I think it needs to be spoken about, and I think it needs to be honored."
Because of her posts on social media, Olson received an invitation to show her work at Bellingham's Old World Deli. In a leap of faith, Olson decided to set her other artistic interests aside and let her paintings tell the story of her experience with her mother.
"I remember walking into the show, and there were so many people there that I thought I was going to pass out," she says. "So I worked my way back into art, but looked at it with a different set of eyes, as more of a process. Instead of something that needed to be completed for somebody else's enjoyment, it was me putting raw emotion to canvas. I think it's a very positive outlet for me, and people get to enjoy it—it's a win-win situation."
Nowadays, much of Olson's painting involves large-scale depictions of animals. But rather than showing them in a scientifically accurate way, she allows her subjects to express the human emotions we all know.
"I love animals, and I like to invoke a feeling or an emotion or a strength, and give the animal that feeling that we have as humans," she says. One of the ways she allows them to evoke those feelings is through a subjective use of color. "When I apply color, a lot of times I'm just going with how it feels—how can I utilize these color to bring out the emotion that I'm putting into this piece?"
Just as Olson will mix oils, pastels, acrylic, graphite and ink into a single piece, she also enjoys working outside of the world of brushes and canvas. "My studio is just too small for my wheel, but eventually I would love to throw pottery," she says. "Recently, I've been working on weaving bull kelp. It's been fun to get my hands into something just a little bit different, and a little more three-dimensional. It's been fun to create different types of art in order to continue to be inspired by all of them."
She also finds inspiration in her fellow Whatcom County artists, and the atmosphere that has been created and nurtured here.
"It's absolutely about community and support. The businesses around here are so wonderful, they've been supportive in reaching out to me. And the other artists, people that I barely know, we share art ideas or things that inspire us," Olson says. "I love supporting other artists here, and being inspired by the things that they're doing. Whatcom County is just a wonderful place to be a creative person."
In addition to her Instagram account, Jessica can be reached at jessicaolsonphotography@gmail.com.