The weather has turned and we are staying close to home this year, but that doesn't mean we can't still have fun. There is a world of games out there that can bring indoor enjoyment on our cold, wet days.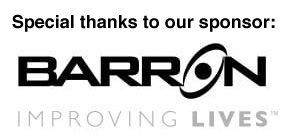 I'm a lover of all games and an avid collector of yard games. This past summer, amid the pandemic, I began to share my collection through Instagram @yardgamenation. What was planned as just a place to share some pictures opened me up to a whole new world. I've discovered more games than I ever imagined and—to my wife's dismay—my collection has grown accordingly.
As the days began to shorten, I was pleased to find that my playing didn'tneed to end. I found that some of the games I acquired for the yard could easily be played inside. Designed for mobility they're all simple to move around and compact for storage. They're all modest in price compared to traditional games you might see in a game room, and provide the same hours of indoor, active fun.
PuckleBoard
The creators of PuckleBoard describe the game as the result if shuffleboard and cornhole had a baby. Tossing a hockey puck, which has been cut in half, it provides a very satisfying "plunk" sound, followed by a slide as it hits the board. With three scoring sections, the game is easy to play—yet a challenge to master. The object of the game is to land exactly on twenty-one, without busting, requiring a combination of skill and strategy to win.
Jon Linn, one of four creators, says that that the strategy involved is his favorite part of the game. "There are so many ways the game can end when you have to get twenty-one exactly," he says. The other three creators are made up of family and a friend. His brother, Jeff Linn, cousin, Josh Britton, and longtime friend, Ted Sisk, round out this team focused on bringing people together one game at a time.
When playing PuckleBoard you'll find that games can quickly become intense as you and your opponent jockey for position on the board. Like shuffleboard, knocking your opponent's puck can be as important as scoring yourself. PuckleBoard is played one-on-one or two-on-two. When not being played, the game completely folds up and fits nicely inside an included bag. More information about PuckleBoard can found at www.puckleboard.com.
On Top Ball Toss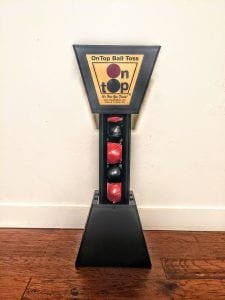 The slogan for this game of ball-stacking fun is: "It's how you finish." And that is what the game is all about. Played one-on-one or in teams of two, opponents alternate tosses, trying to get the ball in the tower. Each ball that successfully lands in the tower is a potential point, but may not last long as a ball tossed on top of yours by the other team wipes out it and any others you have in that round. Within each round, only the person with their ball on top scores.
This style of play, which creator Bob Schirmer came up with, was designed to make the game competitive between experts and novices alike. With the last person throwing always having a chance to be the only points scored, it keeps everyone engaged and limits blowout victories. The game can be played with one tower, or two, with the second tower allowing for less walking back and forth and smoother team play.
Schirmer, being the creative type, has come up with a variety of different games that can be played with the six balls and the towers that come with the game. Mixing up the style of play keeps the game interesting and widens its appeal. With the soft bean bag-type balls and game play that works at all skill levels, this is a perfect family game. More information about On Top Ball Toss can be found at www.ontopballtoss.com.
Delu
During the summer between his senior year of high school and freshman year of college, JT Nejedlo found himself bored with the games he had on hand. With a piece of chalk, he drew out the first Delu gameboard on the driveway. Four years later, he's graduated from college and made Delu available to the masses.
This game is played with each player having three soft balls they must bounce once on the ground prior to the ball landing on the game board. The four slots, varying in size, garner the players one to four points, depending on where they land. Players can jump out to early leads, but in the game of Delu you're never out of it. At the top of the board lies the smallest slot, which landing in gives an instant win. "Anyone can play, and anyone can win," says Nejedlo.
Delu is certainly a game of skill, but with the element of luck mixed in, can be enjoyed by all ages and skill levels. The game board is exceptionally light and breaks down easily into five pieces. The included bag for storing the balls and pieces makes for an easy game to tuck away when not being played. More information about Delu can be found at www.delugames.com.
This could end up feeling like the longest winter we've ever experienced, but by bringing the fun of the outdoors inside we can all hang out and play our way through the season. I hope you enjoy all the tosses, slides, and bounces these three games have to offer.