Submitted by Whatcom Community College
As our community recovers together from the health and economic impacts of COVID-19, Whatcom Community College is playing a significant role helping individuals and families reestablish themselves and grow their earning potential in high-wage and high-demand occupations. Like many in our community, Whatcom Community College's faculty and staff are working from home and inventing new ways to connect. In these spaces we are innovating, collaborating, and reaching in to our community to ensure that anyone who wants to attend WCC is able to do so. We meet our students where they are and put them on a path to a better future.
Here's five things you can do right now with WCC to set you on a new career path in 2021.
1. Discover your strengths and interests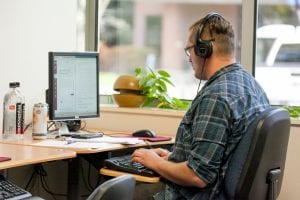 WCC's Career & Transfer Center provides resources and services to help students with career and future planning. Advisors are available by phone or video conference appointment to help you with career exploration and the job search process. Students looking for a job can receive assistance in resume writing, interviewing, networking and other job readiness skills. Get started at www.whatcom.edu/career.
2. Find a WCC program or class that fits your strengths and interests
WCC offers transfer degrees, professional-technical training programs, short-term certificates, and two bachelor of applied science degrees. Popular majors and programs include healthcare, business, accounting, cybersecurity, social sciences, and engineering. Our instructors are knowledgeable, helpful, and have experience navigating the online learning environment. Learn more at www.whatcom.edu/degrees.
3. Explore your funding options and how WCC can help you pay for college
There are many holistic funding options, including financial aid and emergency funding, which can make your college education more affordable. You can apply for several options and pull together multiple sources to create your funding plan. Depending on your family's income level, you could even qualify for free or reduced tuition through the WA College Grant program. Plus, there are WCC staff available to help with each step along the way. Start exploring at www.whatcom.edu/fundingoptions.
4. Tell us about yourself!
We want to know who you are, what your experience is, and what you need from us to take the next step. If you think we might be the right place for you, answer the questions at www.whatcom.edu/workforce and members of WCC's Workforce Recovery Team will provide you with customized information, and ensure you get to meet with a human being who will be there to support you from that first meeting through graduation and on to your next career.
5. Start your application and sign up for classes
Applications are accepted year round at www.whatcom.edu/applynow. The application does NOT require a transcript, essay or letter of recommendation and should take five to ten minutes to complete. Winter quarter starts Jan. 6 and students can enroll in classes for winter up to that date. Once you apply, you'll receive information on how to sign up for classes in a few days. New student registration for winter begins Nov. 23.