Submitted by Barron Heating
Pandemic. It's a word most of us never use, and certainly never fathomed would be part of our daily lives. From "social-distancing" to "quarantine" to "work from home," our worlds and vocabularies now include so many buzzwords that have transformed our "new normal." These strange times have shifted a lot of our priorities, including a focus on health and safety in our communities. And as the world continues to turn, we're making giant strides in science and technology, not just in the medical field, but in building science and indoor air.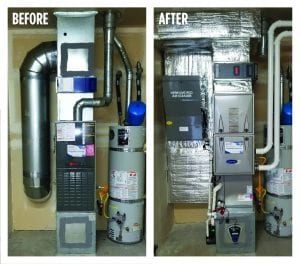 One of the most exciting and encouraging developments in indoor air quality technology is with the REME HALO® in-duct air purifier. Manufactured by RGF® Environmental Group, Inc., a leading environmental design and manufacturing company, the REME HALO® has been a leader in the indoor air solutions game for many years. But while it has been known to kill contaminants like molds, allergens, smoke, surface bacteria and viruses like MRSA, e-coli, and Norwalk, the ability to specifically knock out the COVID-19 virus was not known—until now.
With research beginning in March 2020, a third-party study recently revealed the REME HALO® inactivates 99.9% of the SARS-CoV-2 virus, or COVID-19, within one hour. The test introduced the SARS-CoV-2 virus by nebulizing it (simulating an infected cough or sneeze) inside a large chamber, representing a "real-world" air-conditioned indoor space. With the REME HALO® air purifier operating inside the chamber, the virus was reduced on contact.
The REME HALO® air purifier is installed inside your existing air ducts (or ductless unit) and contains a cell within the unit that combines ultra-violet light and a metallic catalyst. When the REME HALO® is powered on, the cell reacts with humidity to create hydroperoxide, recreating nature's process for purifying outside air. The charged hydroperoxide plasma quickly kills microbial contaminants on surfaces and in the air, and causes particles to stick together, making them larger and easier for filters to catch.
The REME HALO® is proven effective against all three categories of indoor air pollutants: particulates, microbial and gases, bringing relief to allergy sufferers, those with respiratory issues, and preventing viral infection. And as opposed to many "passive" indoor air technologies, the REME HALO® is an "active" solution. It neutralizes the SARS-CoV-2 virus within a space, even before the particles travel through filtration or the UV system.
This development is an integral piece to the healthy indoor air puzzle and an ideal addition to Barron's Ultimate Indoor Air Quality Upgrade. For a limited time, purchase an electronic air cleaner, a HEPA filtration system, and clean and seal your ducts, and Barron will include a state-of-the-art REME HALO® air purifier for free.
The Air Solutions team at Barron feels privileged to not only share this information, but to offer this groundbreaking technology to our community. Prioritizing indoor air quality is key to bettering the health and safety of our indoor spaces now and into the future, and Barron's Ultimate Indoor Air Quality Upgrade is your homes best defense to kick contaminants, mold, allergens and viruses out for good. Give us a call today! As your Pacific Northwest home and building performance experts since 1972, we stand by Our Mission: Improving Lives™.
DISCLAIMER: The summary and any comments herein are based on the results from an independent laboratory study performed under controlled conditions and are not in any way medical claims. The product(s) and technologies described are not medical devices and are not intended to diagnose, treat, cure, or prevent any disease, virus, or illness.