With events canceled across the board this year, the Blaine Tourism Advisory Committee asked if the annual Blaine Harbor Lights celebration, on Saturday, December 5, could focus on holiday lights as a safe alternative to other canceled happenings. Folks could plan to enjoy them by either driving through downtown or hopping out of their cars to shop and enjoy an outdoor dining option.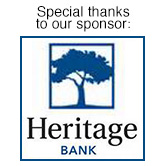 With severely limited City funds and lodging tax revenue significantly reduced, according to City of Blaine's Economic Development & Tourism Coordinator, Alex Wenger, the committee reached out to local partners to find a solution. The Blaine Chamber of Commerce, Wildbird Charity, the Northern Light newspaper, and the City all stepped up to help.
And just like that, the Harbor Holiday Lights fundraising campaign was launched!
In the past, Wenger says, "The Holiday Lights celebration has been a fun event where we get people together and 'light' the city's Christmas tree, sing carols, enjoy horse drawn carriage rides, Santa arrives on a fire truck, and we have a great community time." 
For the last couple of years, they've paired the event with an annual Shellebration, celebrating the health of Drayton Harbor through a partnership with Whatcom Conservation District, the Department of Ecology and Drayton Harbor Oyster Company, giving away thousands of barbecued oysters, raw oysters, and oyster stew.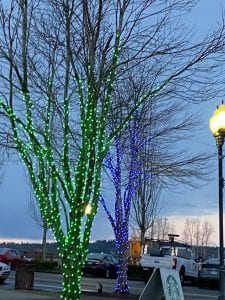 Unfortunately, none of that is happening this year due to the COVID-19 pandemic.
Wenger says this year will be different, clearly. 
Drayton Harbor Oyster Company has installed a 30' x 30' weather canopy and will serve outside. The Vault also has outdoor covered heated fine dining.
"It's not so much an event this year as it is a fun ongoing holiday village and lighting display," says Wenger. "We're also adding large nautical themed lighting displays that speak to Blaine's new tourism theme, Blaine by the Sea, with a new website, as well as Instagram and Facebook.
There's no official tree lighting this year, but there will be Christmas music playing at SkyeHill Station, across from G Street Plaza and the Christmas tree.
Blaine's indoor Holiday Market by the Sea runs every weekend from 10:00 a.m. to 2:00 p.m. on Saturdays and from noon to 4:00 p.m. on Sundays. The market is located at the previous Wolten and Montfort grocery space at 648 Peace Portal Drive, and is continuing at 25 percent or less capacity. Items at the market include homemade soap, candles, pastries, jam, fresh coffee, jewelry and more. Learn more at www.blainechamber.com. 
COVID-19 has really changed everything, Wenger says.
"It's a big deal how the community came together on this holiday lighting fundraiser. With Safe Start COVID-19 restrictions tightening up to keep us safe, and folks being cooped up in their homes, the holiday lights are about our only decent safe option to enjoy some cheer this season."
And even without a big lead-up to the fundraising campaign—just an announcement and working to spread the word—people have rallied behind the idea. "We've received over $12,000 in donations already with more coming in almost every day," says Wenger. "Pretty cool for a small city like Blaine!"