Longtime Bellingham business, Tony's Coffee, recently received some well-deserved recognition when it was named "2021 Roaster of the Year" by Roast Magazine, a national specialty coffee publication.
The annual award recognizes companies for numerous traits, including superior roast quality, innovations in business practices, and commitments to sustainability, diversity, employees and community. Winners receive a full-length feature story in the November-December issue of Roast, plus $500 and a year-long web page on the Roast website.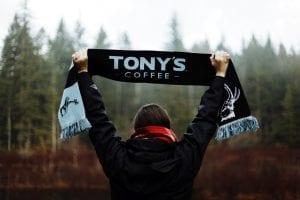 The award is given in two categories—micro (companies roasting less than 100,000 pounds of beans per year and macro (those roasting more than 100,000 pounds). Tony's won for the latter category, roasting and average of 1.1 million pounds of beans annually.
For the 41 employees of Tony's Coffee, the award is a huge thrill.
"It's very humbling for a company of our size to be selected for this national recognition," says David Yake, Tony's Director of Sales and Sustainability. "But it also shows that persistence pays off—our team has remained committed to continually learning about the craft of coffee roasting for decades. We've never assumed we know everything there is to know."
Tony's Coffee was founded in 1971 by namesake Tony Campbell. In the company's early days, they sold coffees, teas and spices out of a coffeehouse located in Fairhaven's historic Terminal Building. Their initial method of coffee roasting was done in the café's front room on an old, converted nut roaster.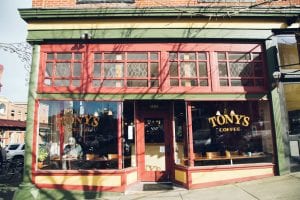 A few years later, Campbell sold his coffeehouse to a couple of retired Western Washington University professors. They ran the operation into the mid-1980s before the business was taken over by the Elliott family, Tony's current owners.
Tony's longevity and success, Yake says, is owed to their focus on coffee quality and the relationships they hold with coffee farmers and customers.
"We've never had the desire to become some huge company," he says. "Staying in Bellingham has helped us maintain this focus. There's no place like Bellingham."
For consideration by Roast's judging panel, Tony's submitted three one-pound coffee samples of their blends. Two were Ethiopian and included their popular Ethiopia Kayon Mountain blend. Their third, "Look for the Helpers," is a Mister Rogers-inspired blend that does a lot more than just taste great.
Yake says the idea for the blend—with 100 percent of profits going to an organization helping the community—was suggested by a Tony's team member this spring, at the beginning of the COVID-19 pandemic. Within days, the company was working on artwork with local designer, Cameron Jennings. Deciding what the blend would encompass, Yake says they chose a combination of favorites and fresh seasonal arrivals to land on a medium roast profile.
Next, they reached out to Bellingham Food Bank to receive their blessing on donations. Several weeks later, they blend was selling in dozens of stores throughout Whatcom County.
"Look for the Helpers" blend is available at Tony's website and their Fairhaven coffeehouse, as well as at Haggen stores, both Community Co-op locations, the Bellingham Whole Foods, and other independent stores and cafes. To date, Yake says they've raised more than $5,000 for BFB, with expectations that this number will dramatically increase during the holiday season.
One of Tony's major goals is to grow sustainable practices throughout the coffee industry. The company has been using 100-percent renewable electricity since 2006. In 2019 they installed a super-efficient, American-made Loring coffee roaster, cutting their roastery's carbon footprint nearly in half.
And this year, they reached out to Kulshan Services—a local environmental consultant—to assess the carbon footprint of their roaster and delivery fleet and make them 100-percent carbon neutral. By 2030, they've pledged to offset the entirety of their carbon emissions from 1971 to 2030.
In addition to local efforts, Tony's also works with a carbon offset non-profit called Gold Standard, which carries out green projects across the world. Tony's helped fund a clean water project in Rwanda, a place the company also sources coffees from.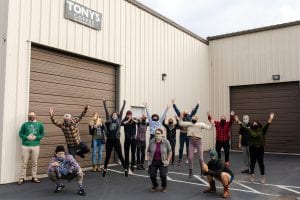 Tony's team works hard to support customers in their pandemic-necessitated, at-home brewing endeavors. Their website features brewing tutorials and café-quality brewing gear, including Chemex brewers and Baratza grinders.
Finally, Tony's has digital gift cards available for the holiday season, as well as memberships to Tony's Coffee Club. The memberships come in three, six, or 12-month options, offering savings of 15, 25 and 30 percent on coffee purchases during those respective periods.
From the bottom of the hearts of every Tony's Coffee employee, they thank the community for supporting them. And they look forward to many more years of great coffee and friendship.
As a thank-you to Tony's customers, readers of this article can obtain a 10-percent discount and free shipping on any coffee purchase by entering "WHATCOM" at checkout. This offer is good through Dec. 31.
Sponsored