Unfamiliar to some locals, All American Marine is a leader in innovative boat building, found right here on our Bellingham waterfront. When visitors come see us, we always include a drive by its state-of-the-art facility in hopes that one of the big doors is open, giving a glimpse of their latest vessel in progress.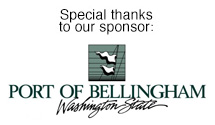 A few years ago, we were excited to follow the progress of a Red and White Fleet's 600-passenger ferry, which we now know is the Enhydra monohull vessel, a lithium-ion battery, electric hybrid-powered vessel that offers fuel efficiency by switching back and forth, similar to a Prius. It was named WorkBoat Magazine's Boat of the Year in 2018.
The ship building company was founded in 1987 by Pat and Julie Pitsch on MacKenzie and then Harris Avenue to build commercial charter boats and the popular wide beamed, 32' aluminum bowpickers known as Bristol Bay boats.
As the fishing industry changed, so did All American Marine; in 1999, they began to build passenger catamarans. The company is now at the forefront of the aluminum vessel design and build business.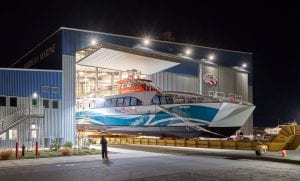 After joining the business in 1999, Matt Mullett became CEO in 2000 and worked with the Port of Bellingham to expand AAM's facility. In 2017, All American Marine moved to its current, Port-owned, 57,000-square-foot facility on Squalicum Harbor. This allowed them to double their workforce to about 70 jobs.
A collaboration with Bellingham Technical College helps All American Marine produce the highly skilled, local workforce it demands. These jobs include fabricators, welders, electricians, system engineers and interior carpenters.
"Unlike other shipyards, we do almost everything in-house," says Ron Wille, All American Marine's business development manager. "We believe in cross training so we can keep our staff on through the ups and downs of demand. It helps us build a cohesive team."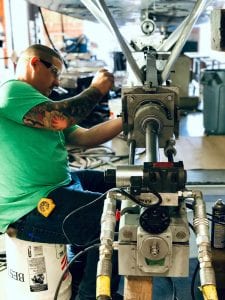 All American Marine has an exclusive North American contract for most of their projects with New Zealand Naval Architecture firm Teknicraft Design and their principal Nic de Waal. This relationship allows them to customize vessels to their clients' needs and adjust specifications and designs with ease and accuracy, as needed. "Using aluminum as our main building component—as well as innovative (fuel) power methods combined with our customization—means we can build a better boat for our customers," Wille says.
Wille talked with us about the variety of vessels that have been built by All American Marine. The company has built about 70 Teknicraft boats over the last 20 years. Details for many of them can be found on the AAM website.
"I'm relatively new to the team, starting two years ago. The first vessel I contracted was a patrol vessel for Texas Parks and Wildlife," says Wille. "It was the first boat in the U.S. to have Hamilton waterjet controls (AVX), which allow the boat to stay right where you want it with the push of a button."
Most of All American Marine's vessels are designed as catamarans for efficiency and performance, and a majority include a hydrofoil which decreases drag by about 33%, allowing additional fuel efficiency.
All American Marine has built ships for tourism companies such as Great Western Attractions (which operates the Seattle Wheel), Major Marine Tours, research ships for Duke University and NOAA, and ultra-low-wake, high-speed passenger vessels for Kitsap Transit.
The latest vessel to be built will be the first in the U.S. that's hydrogen fuel cell-powered, using hydrogen fuel tanks and fuel cells in place of a traditional motor or generator, to power an electric drive motor. Designed for Switch Maritime in conjunction with Golden Gate Zero Marine, the zero-emission 70-foot, 84 passenger e-ferry will operate in the California Bay area. The project is funded by private capital from Switch as well as a grant from the California Air Resources Board (CARB).
A recent contract from Birdon America will have All American Marine participating in a Service Life Extension Program for 47' Motor Life Boats for the Coast Guard that are self-righting. If you were lucky on September 29th, you may have seen the self-righting test at local Colony Wharf.
Marketing Manager Bronson Lamb showed us around the facility, starting with the materials room, where different types of aluminum are received from many sources. An operator then programs the CNC cutting machine to precisely cut what's needed, with the added benefit of labeling each piece. All aluminum remnant is recycled.
The vessel then moves on to the cradle where the hull is laid, and the structure is built. The next step is interiors, and then on to the painting bay.
The shop can build up to four boats at any one time, with each usually taking three months for design, and nine months to complete the build. The building process for inspected vessels is monitored for safety and regulatory compliance by the U.S. Coast Guard.
All American Marine offers tours to the public who sign up during SeaFeast every year (except 2020)—and believe us, there's lots to see. Sightings are also sometimes possible in the harbor as vessels are tested with rigorous sea trials prior to delivery to the customer.
All American Marine
1010 Hilton Avenue in Bellingham
www.allamericanmarine.com