It's no secret that finding child care in Whatcom County is daunting and difficult. A 2018 assessment study estimated our area to be about 4,400 spots short of meeting needed demand, essentially creating a "child care desert" for many parents, especially those with infants and toddlers.
Demand outpaces availability so much that parents are told to get on child care center waitlists before they're even pregnant. The YMCA, a sizeable county provider, reportedly had a wait list of about 300 prior to the COVID-19 pandemic, which has temporarily reduced capacity in the area another 22 percent.
Fortunately, a new partnership between the non-profit Opportunity Council and the Bellingham Regional Chamber of Commerce is looking to maintain and expand child care throughout Whatcom County. The Northwest Center for Child Care Retention & Expansion, which had a soft opening in August, aims to provide numerous resources for local community child care needs.
Located in downtown Bellingham at the existing chamber of commerce office, the center currently has two full-time employees, one of whom is a former child care operator. Help from the Opportunity Council's department of early learning provides many more helping hands.
The center has additional support from the Washington State Department of Commerce—which invested $500,000 to support staffing and fund grants for the new entity—as well as North Sound ACH and other philanthropic organizations.
Multiple fronts
The lack of accessible child care has many effects on a community.
Guy Occhiogrosso, president and CEO of the Bellingham Regional Chamber of Commerce, says the link between licensed child care and successful early childhood learning is well documented. And when more than half a million children state-wide lack that licensed care, something needs to change.
"We want great quality child care now to ensure that our future workforce and community is set up for even greater success," Occhiogrosso says. "It's an investment for the future."
A healthy child care market, of course, has important effects beyond childhood development. Because it has a direct effect on parents, it also has a direct effect on their employers. David Webster, director of Opportunity Council's department of early learning and family services, says they've heard from local employers on an inability to land desired hires because of our area's lack of adequate child care options.
"Employers are telling us, 'I can't get people to move here and take the job opening or accept a promotion because they can't figure out their childcare situation,'" he says.
A Child Care Collaborative Task Force report by the State of Washington showed that one in five parents surveyed turned down a job offer or promotion directly due to child care issues. The pandemic, of course, doesn't help matters.
Remote learning is putting extra strain on parents—but it's also putting extra strain on their child care providers. In some cases, parents who work outside the home are outsourcing remote learning help to providers, who may or may not be able to properly accommodate those needs.
In other cases, where families are unemployed or strictly working from home, they may pull their children out of child care programs for financial reasons.
This presents a conundrum.
"Providers are left in a lurch," Occhiogrosso says. "Do they continue to hold that space for a long-term customer, or do they fill it with somebody else, and then maybe have a complication when the long-term customer is ready to come back?"
A helping hand
Fortunately, the Northwest Center for Child Care Retention & Expansion has five areas of focus to address the wide-ranging effects of insufficient capacity. 
The first is to stabilize the local market, preventing existing locations from permanent closure due to the pandemic or other reasons. The center plans to award grants to both new and existing providers to help the market, and they'll also work to ensure that change or retirement of previous facility ownership keeps those places from closing.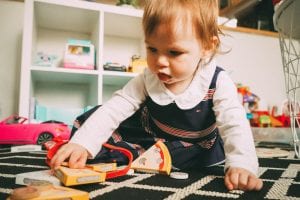 In addition, the center will work to help existing facilities with expansion plans, which may include the need for public policy changes, says Webster. Currently, a Whatcom County child care provider wishing to expand capacity from its current level of six children cannot do so due to an old county zoning rule. The rule limits no more than six children be cared for within one business, even though current state licensing guidelines allow a licensed business, depending on space considerations, up to 12 children.
In addition to ensuring arbitrary barriers don't prevent expansion, the center will work to help start up new care spaces, including those financed by local companies or co-operatives of several different companies. Many employers, Webster says, have expressed desire to be part of the child care solution, even if they can't accommodate a child care center on their own property.
Another avenue of expansion will come by incorporating licensed care into new housing and commercial developments. Webster says at least six upcoming building projects in Whatcom County involve designers interested in building early learning child care spaces into their structures.
Gaining further understanding of where child care is most needed geographically in the county, the center is also working with the county's United Way chapter on a detailed demand analysis. United Way will use funding from the Washington State Department of Commerce to conduct the analysis on a school district basis, and will include private and license-exempt education providers.
Together, all these efforts will allow the Northwest Center for Child Care Retention & Expansion to narrow the gap of insufficient child care in Whatcom County, helping the community prosper both now and in the future. 
Sponsored