Ever wondered where to find the highest drivable point in Washington State? Your first guess might be Whatcom County's own Artist Point. The popular and scenic endpoint of the Mount Baker Highway is, after all, about 5,100 feet above sea level. But that's not the right answer.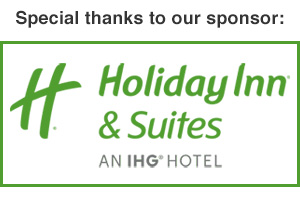 Another guess might be the Henry M. Jackson Memorial Visitor Center at Mount Rainier National Park's Paradise, some 5,400 feet above sea level. Or what about 5,575-foot-tall Sherman Pass, in Eastern Washington's Ferry County? Interestingly enough, it's none of these places.
The answer is remote Slate Peak. It lies on the shared border of Whatcom and Okanogan counties, more than 7,000 feet above sea level, and is accessible only by a rough, narrow road providing breathtaking views and little margin for error. Standing on the edge of wilderness, it provides a 360-degree view of North Cascades spender, intersects with the history of gold rush towns and wartime paranoia, and is topped by a historic fire lookout.
Getting There
A journey to Slate Peak begins with a turn off the North Cascades Highway at Mazama, in Okanogan County's beautiful Methow Valley, onto the pavement of Lost River Road. Running parallel to the Methow River, the road runs about 7.5 miles before becoming the gravel of Forest Service Road 5400.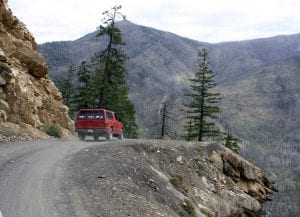 For the next 13 miles, the road switchbacks upward, mostly with enough room for two traffic lanes. Some portions of it are wash-boarded, though, so prepare to go slow unless you want your vehicle's suspension abused. About four miles past Robinson Creek, the road narrows dramatically at a half-mile section wide enough for only one vehicle at a time; what lies ahead is one of the most pulse-quickening sections of road you'll ever drive.
This portion is called Deadhorse Point, so-named because of an alleged 1890s accident—when the road was even narrower, more dangerous, and covered in wooden planks. Crudely constructed during that time as a way to allow supplies and people into gold mining areas, the road was so slender that wagons were supposedly narrowed just to make the trip.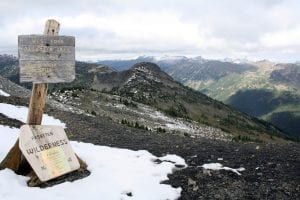 At one point, a pack-string of wagon-toting horses were on their way up when one horse became spooked and attempted to pull back from the crossing. At it pulled back, the horse lost its footing, plummeted over the edge of the road, and took the remaining horses with it. The entire pack-string was found hundreds of feet below in a creek bed.
Although it was widened in the mid-1930s to allow normal vehicle traffic, the road still hugs the steep rock faces of the mountainside. There are no guardrails at the road's edge, and a trip over the side still means an unsurvivable fall into the valley below. This section is best traversed at a crawl and trailers are not allowed. If you meet another vehicle here, one of you will be backing up.
The Views of History
Once past Deadhorse Point, views widen to reveal alpine meadows and a valley ravaged by the 2003 Needles Fire. More than 21,000 acres burned in the lightning-caused fire, and what remains is thousands of charred, lifeless trees standing upright.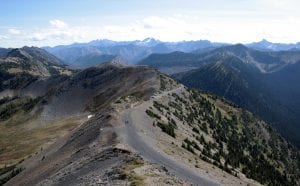 At Hart's Pass (named after Colonel W. Thomas Hart and at 6,200 feet in elevation), the road forks: Left takes you to Hart's Pass Campground, while going straight takes you down NF-700, a road leading to the ghostly remains of two 1890s boomtowns: Barron and Chancellor.
Three miles from Hart's Pass ranger station, Barron became home to 2,500 people after gold was discovered there in 1892. Some area mines reportedly produced pockets of gold worth six figures. But as stories of gold elsewhere trickled in, Barron's residents trickled out. People left Barron so quickly, in fact, that Forest Service employees found money, letters and food untouched decades after its abandonment.
About six miles further down the road, Chancellor was a mining camp that reached a population of 3,000 but suffered a fate similar to Barron. Today, remnants of both towns are few, but include the ruins of a hotel, saloon, and power plant. Given the area's remoteness even today, it's hard to imagine thousands of people living here.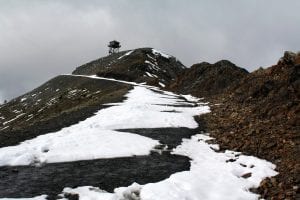 To reach Slate Peak, take the right fork of the road past Hart's Pass ranger station. As you drive, you'll find meadow views and access points to the northern-most U.S. section of the 2,653-mile long Pacific Crest Trail.
The road continues snaking upward in a narrow, jutted fashion, stopping at a parking lot several hundred feet below the fire lookout. Patches of snow can be found here well into July, and by October, snow covers the landscape again. A gate prevents further driving, but you can walk to the top of the 7,488-foot-tall peak.
The first lookout was built in 1924, a cupola-style cabin common for lookouts of the era. In the 1930s, a lightning strike set the building on fire. During World War II, the Slate Peak area was briefly used by the Army's Aircraft Warning Service, which used civilian volunteers to watch for enemy aircraft. In 1954, another fully-intact modern lookout was moved 63 miles from Mount Leecher to replace the original. Just two years later, it was removed so the U.S. Air Force could blast away 40 feet from the top of the mountain to install a radar station to watch for Soviet aircraft.
When the radar station stopped operating in 1961 and was dismantled, the existing lookout was raised 40 feet into the air on a treated timber tower, where it still sits today. The lookout hasn't been regularly manned in decades, but saw emergency use during several mid-1990s wildfires.
Though padlocks and boarded windows shield it from public access, the flat ground beneath the lookout provides stunning views of the North Cascades, including Gardner Mountain (8,897 feet)—once home to among the state's highest fire lookouts—and Three Fools Peak, named because prospectors once discovered a large pocket of fool's gold there.
On perfectly clear days, Mount Baker is visible some 50 miles to the west; on clear nights, the star-gazing is enough to bring out your inner Carl Sagan. It can also be cold and windy here, even in the summer, so bring a jacket and other warming measures when you go.
All in all, Slate Peak is one of those places that every Washingtonian should endeavor to visit at least once in their lifetime. Getting there isn't the easiest trip you'll make, but the reward is worth the risk.