Submitted by the Whatcom County Health Department
Now that we're almost six months into the COVID-19 pandemic in our county, most of us have adapted to our new way of life. Wearing a mask, staying physically distanced from others, and keeping closer to home are our new normal. But even if we have adapted to this new reality, it has caused our anxiety and stress levels to increase over a long period of time, leading to chronic stress.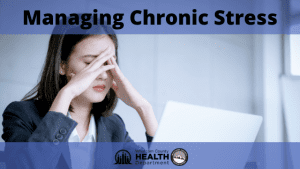 What is chronic stress?
We all encounter stressful situations or interactions on a daily basis, and we can usually manage them and get back to our regular lives. When we are under constant stress, and are unable to recover from it, chronic stress can lead to physical and mental problems, and can lower our immune system.
The changes we've made in our normal routines have the benefit of keeping us safer from COVID-19, but come at the expense of our physical and mental health. Heightened anxiety around everyday activities such as going to the grocery store, visiting our friends and family, or watching the news can add to the chronic stress we are experiencing. Uncertainty about what will happen in the future also adds to our stress. Many people were already experiencing chronic stress prior to COVID-19, whether due to their jobs, family situations, or discrimination due to race. COVID-19 can increase the effects of chronic stress, which can lead to more severe complications from COVID-19 or other illnesses.
What to watch out for
Chronic stress can cause physical changes in your body, such as:
Insomnia
Headaches
Upset stomach
Low energy
Aches, pains, and tense muscles
Chest pain and rapid heartbeat
Chronic stress can cause mental and emotional problems such as:
Irritability
Depression
Anger
Anxiety
Difficulty concentrating
You can do a daily check-in with your body and mind so you can recognize any changes.
Ways to cope
If you find yourself experiencing signs of chronic stress, making time for daily recovery can help reduce the effects. Focus on activities that you can do to help lower stress:
Get some exercise.

Numerous studies have shown that exercise can help reduce stress. Whether it's a run, a bike ride, or a stroll around the neighborhood, daily exercise can increase your physical and mental health.

Try meditation and/or breathing exercises.
Focus on the things you can control.

With so much uncertainty surrounding us, concentrating on what you have control over can help keep you grounded. Keeping to a consistent schedule, eating healthy food and getting enough sleep are all ways to stay centered.

Talk to someone.

Having someone you can talk to when you're feeling stressed out can be a relief. Letting a relative or a friend know that you are feeling stressed or that you're not doing ok, or even that you wish you could give them a hug, and having those feelings validated can be comforting.
Talking to your doctor or a counselor can also be helpful, if your stress is starting to overwhelm you.

Take a break from the media.

Constant exposure to the news, whether it be from television or social media, can increase your anxiety level. Taking a break every so often and allowing your mind to relax is a good stress-lowering practice.
Chronic stress can have many negative effects on your body, and a lowered immune system is particularly bad right now. Pay attention to your body, and know the signs of chronic stress, so you can take steps to reduce it. Focus on healthy activities that you enjoy and find relaxing, and above all, be patient with yourself. We are living through a difficult time, and the more we can do to take care of ourselves, the better off we'll be.