While Lynden's Jansen Art Center remains closed to the public in response to the COVID-19 pandemic, it will still be possible to continue viewing the creative works of local artists displayed there.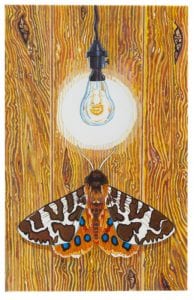 On September 3, the nonprofit art center kicks off their latest quarterly exhibits in an exclusively virtual manner. While the fun of opening-night, in-person receptions won't be there, the excitement of viewing, learning about, and even purchasing exquisite artwork will be ever-present. And to take part, you won't even have to leave your couch.
"Featuring our exhibits virtually is a great way to support the artists and expand our reach beyond our local community," says Karen Bacon, exhibits manager for the J. "Artists can now share the exhibits with friends, family and patrons from all over the world."
The virtual exhibits will display on the center's website, and consist of photos of each art piece, along with artist's statements and information. Pricing and other information regarding purchasing will also be available.
This quarter's exhibits will feature "Emerging Nature 2" from artist Mike Bathum, as well as "Through the Eyes of the Beholder by Malissa Perry and Christen Mattix." A diverse showcase of work from the Whatcom Artist Studio Tour will also be viewable, as will the recurring Juried Exhibit.
The juried J exhibits feature the best works submitted by artistic Whatcom County residents, as decided by a qualified jury of artists, curators and other figures in the arts community. The Juried Exhibit also features a People's Choice Award, as decided by art viewers casting virtual votes. The winner, along with one random lucky voter, receives a cup from the center's upcoming annual Cup Show.
The eighth annual Cup Show will, as in past years, feature handmade ceramic cups submitted from ceramic artists around the world. Like the other exhibits, many of the pieces will be available for purchase.
Further exhibits to be displayed this fall include "Falling Out of the Box: Brooching the Subject"—a jewelry and metal art design challenge—and Lynn Zimmerman's "Under Northwest Skies." The latter exhibit is displayed at The Inn at Lynden through December.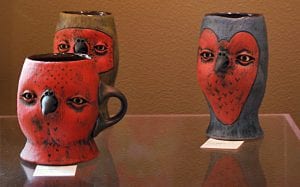 Amelia Chirichigno, marketing manager for the J says she hopes people's passion and celebration of local art will remain strong during the continuing pandemic, and that the virtual method of viewing it will be positive for both viewers and artists.
"Although COVID has pulled us away from experiencing the exhibits the way we normally would, we really want to make sure artists still have the opportunity to share their work," she says. "We hope it provides motivation to be working in their studios, while still having the opportunity to sell and share their work with the community."
And after all, what could be more fun that having art, wine, and hors d'oeuvres without having to leave your house?
For more on Jansen Art Center exhibits, see their website.
Sponsored