Appearing from behind a row of u-pick berry bushes, Dan Burdick, owner and farmer alongside wife Bridgette DiMonda of Home Farm U-Pick & Events, smiles and waves as visitors walk down the dirt path. He greets them like old friends. The newest puppy of the four Australian shepherds on the farm runs out from behind the berry bushes and chases one of the friendly barn cats at Dan's feet. The other dogs appear and run through the rows of vegetables, coming back from visiting with the pigs on the other side of the farm. They stop and wag hello to people picking flowers and harvesting their own produce. Whether it's a visitor's first time at the Home Farm farm stand off Kickerville Road in Blaine, or they've been customers since the farm began in 2017, folks drive away feeling like a part of the Home Farm family.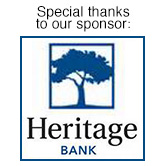 Burdick and DiMonda operate the 25-acre farm and year-round farm stand with help from their nine-year-old daughter, Chloe, and a few dedicated volunteers. Burdick worked on a farm in Connecticut earlier in his life, and had a desire to get back to his roots, move out of the city, and invest in small farming.
In 2017, he told DiMonda he was applying for a transfer with his job at Puget Sound Energy to move from Bellevue to Whatcom County. In June of 2018 they stood on their newly purchased former golf driving range just minutes from Birch Bay, eyes wide with the vision of turning the grass before them into a community-based farm and event space. Their first crops were planted by October and they were hopeful for their first season.
That next summer, they opened up the farm stand and sold berries and vegetables. The farm stand—which today houses local goods for sale from small businesses in addition to Home Farm produce and products—was not a part of the original plan for the farm.
"None of this was the original vision," DiMonda says with a smile, as she looks around at their acreage and what they've created over the past two years. "We started out with the thought of just having a u-pick berry farm. Then we thought, we can plant vegetables and have a u-pick vegetable farm because nobody around here does that; we can have people come out and pick their own vegetables." 
Burdick's main focus was always to bring the community closer together. Home Farm also serves as an educational opportunity for families—and kids, in particular—to see where their food is grown, learn how to pick it, and gain a deeper relationship to what they eat, as many people are disconnected from their food sources, DiMonda says.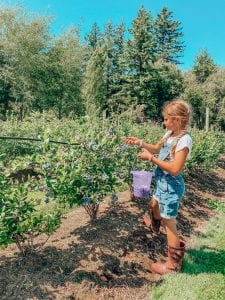 While they currently farm nearly eight acres of assorted all-natural, no-spray berries, vegetables, and flowers using organic practices, you won't find Home Farm produce in the grocery stores. They've had lots of invitations from grocers and farmer's markets to sell at the stores or markets, but that's just not the Home Farm way.
"Our vision has always been to have people come here," DiMonda says. The duo want folks to come to the farm stand or u-pick, have fun and experience the connection of picking their own food, rather than simply buying it at a store. Burdick also still works a full-time job with Puget Sound Energy, and only operates the farm as his "hobby" during off-work hours.
Converting what had been a golf course into a functioning and fruitful diversified farm came with its own set of unique challenges. "The good news," Burdick says, "is that in the farming community, farmers always help out farmers."
This "unwritten rule" of helping other farmers not only helped them get off their feet as a small business and get the land ready for harvest, but the farming community around Whatcom County continues to support them as they take on new projects and expand the vision for Home Farm.
In line with their goal of bringing people to the farm is their desire for the space to be used for events and gatherings, though all future events at Home Farm are put on hold right now for the safety of the community. DiMonda and Burdick hope to host small events, weddings, and even dream about the possibility of having reservable camping spots on the farm's 25 acres.
While Burdick had farming experience and passion before they grew Home Farm, DiMonda never imagined she would be in the farming world. When she was little, she wanted to be an artist and live in the city, and over the years gained experience in merchandising and marketing.
Today, keeping up with Home Farm is her full-time commitment, but she expresses her artistic eye for photography on their Instagrampage and website desig. "I guess I was working towards this the whole time and I didn't know it," DiMonda says. "Who knew it would be so fun to take pictures of pigs!"
Make a visit to Home Farm before the berry picking season is over, or plan to pick your own late-summer and early-fall vegetables. There are plenty of pumpkins growing now that will be available for picking or purchase from the self-serve Farm Stand soon. They've made it easy with their u-pick calendar on their website that identifies what is available for u-pick every day, in addition to their hours and pricing per pound. The farm stand is open all year, seven days a week from 8:00 a.m. to 7:00 p.m.
Home Farm U-Pick & Events
8020 Kickerville Road in Blaine
www.homefarm.farm