With an abundance of picturesque natural scenery, Whatcom County has set the scenes of several notable films. The Cascades' sublime scale, isolation, and grandeur have long drawn filmmakers and viewers in turn.
Whatcom County sights have appeared in all eras of film since the introduction of sound. Since the Golden Age of Hollywood (1913–1969), filmmakers have benefited Washington tourism by enchanting audiences with spectacular natural settings. In post-classical cinema (1960s-1980s) and modern cinema (1980s-present), Whatcom County has represented both itself and distant locales.
Five movies filmed here range from near to far in setting, comedy to drama in tone, mainstream to independent in production. As in Whatcom County itself, there's something for everyone.
The Call of the Wild (1935)
After two silent film adaptations, audiences eagerly anticipated a synchronized sound adaptation of Jack London's 1903 novel The Call of the Wild. Directed by William A. Wellman and starring Clark Gable, Loretta Young, and Jack Oakie, the 1935 adaptation was 20th Century Pictures' last film before merging into 20th Century Fox. Mount Baker-Snoqualmie National Forest featured as gold rush-era Alaska, with over 200 former "Klondikers" on set.
Cast and crew stayed at Mount Baker Lodge in Heather Meadows for longer than planned, as snowdrifts buried equipment, sets, and roads. Blizzards, power outages, and sickness delayed production. Nevertheless, filmmakers chose Mount Baker over Mount Rainier and Jackson Hole, Wyoming for its comparative remoteness. The resulting tourism boom, however, influenced the creation of Mount Baker Ski Area in 1953—finally taming the wild.
The Call of the Wild brought many fans to Mount Baker to see stars on set, and had an unprecedentedly successful opening weekend at Seattle's Orpheum Theater. Other Classical Hollywood films in Washington include Tugboat Annie (1933), Here Comes the Navy (1934), The Barrier (1937), God's Country and the Woman (1937), and Thin Ice (1937).
The Deer Hunter (1978)
War drama The Deer Hunter won five Academy Awards and features on several lists of all-time greatest films. Directed by Michael Cimino, it features an all-star cast of Robert De Niro, Christopher Walken, John Savage, Meryl Streep, George Dzundza, and John Cazale in his last role. The film follows Pennsylvania steelworkers whose lives change because of Vietnam War violence—although the snowcapped Cascades substitute for the rolling Appalachians.
Several deer hunting scenes feature Heather Meadows, Diablo Dam in North Cascades National Park, and Colonial Creek Campgroundon North Cascades Highway. Other "Clairton, Pennsylvania" scenes were filmed elsewhere in Pennsylvania, Ohio, and West Virginia. The Deer Hunter was also the first Vietnam War movie filmed in Thailand.
The Grey Fox (1982)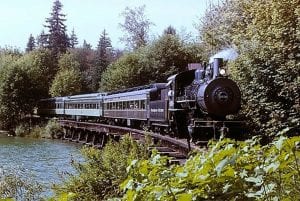 Biographical film The Grey Fox is considered a "masterwork" by the Audio-Visual Preservation Trust of Canada, and won seven Genie Awards. Directed by Phillip Borsos, it stars Richard Farnsworth as Bill Miner, the bandito behind Canada's first train robbery in 1904. Miner briefly lived in Whatcom County, as some sets reflect.
Several scenes of The Grey Fox include the Lummi Reservation and Lake Whatcom's southern shore, near the ghost town of Park. The latter scenes showcase Locomotive 1070, a historic Northern Pacific Railway train now owned by Lake Whatcom Railway. The Grey Fox attracted several locals as extras, and notably features Fort Steele among other British Columbia locations.
The Ring (2002)
Highly-grossing horror film The Ring is a remake of Japanese film Ringu (1998). Directed by Gore Verbinski, the film stars Naomi Watts as a journalist investigating a cursed videotape that causes viewers' deaths. Filming in California, Washington, and Oregon, Verbinski set the film in "wet and isolated" Seattle.
Bellingham's own Camp Firwood features in several scenes as "Shelter Mountain Inn," the videotape's origin. However, the South Cove cabins underwent renovations in the 2010s and no longer resemble their onscreen appearance. Other Washington scenery in The Ring includes Deception Pass Bridge, Fidalgo Island's Pass Lake, and Whidbey Island. 
Captain Fantastic (2016)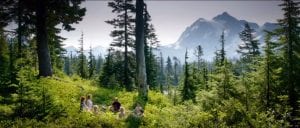 Directed by Matt Ross, independent comedy-drama Captain Fantastic received nominations for the Golden Globe, BAFTA Award, and Academy Award for Best Actor. Viggo Mortensen plays a father who tries to raise his six children in Washington's wilderness. Artist Point takes center stage.
Like the oldest film on this list, this most recent film showcased Mount Baker's scenery to communicate remoteness, but faced logistical issues with snowdrifts. Concerns were short-lived, however, and location scout Dave Drummond described the finished picture as "a postcard or a love letter to the state."
Also like The Call of the Wild, Captain Fantastic inspired wilderness tourism and local pride. Bellingham locals Elena Steca and Brittany Brytus acted as an extra and production assistant, respectively. Both attended a Pickford Film Center Q&A after the film's premiere. Captain Fantastic's other locations include Deception Pass, Pack Forest, Index Town Wall and general store, Camp Korey in Carnation, and Fall City Roadhouse (of Twin Peaks fame).
Whether you enjoy a location-spotting movie night or visit filming locations, you're in for sightseeing that hits close to home.