You might know that Whatcom County takes its name from a Native American word meaning "noisy water." You may also know that the city of Bellingham is named after its namesake bay, which itself is named for Sir William Bellingham—a British Navy official in charge of provisioning George Vancouver's 1790s expedition to explore North America's West Coast.

But what do you know about the etymology of some of our county's other well-known places? The history behind the monikers includes tales of mystery, athleticism, and even murder.
Galbraith Mountain
Home to 65 miles of premiere mountain bike trails winding through several thousand acres of forested land, Galbraith Mountain's real name is actually North Lookout Mountain. But the Galbraith name has been more synonymous with the 1,785-foot mountain, and pays tribute to a longtime family of county loggers.

Audley A. Galbraith, with wife Henrietta, homesteaded 160 acres of land in Acme Township around 1884. The couple had six children—two daughters and four sons. On January 5, 1911, A.A. Galbraith and Winn Stevens, superintendent of the Saxon logging camp, confronted two men who'd stolen several pairs of shoes from the camp stockpile. A deadly shootout resulted, with an unarmed Galbraith shot five times by a man known only as 'Slim.'
Stevens had a revolver and engaged the two men in gun fire, but was also fatally wounded; he died a week later. The two men, one of whom was shot in the stomach by Stevens, fled on a freight train to Sedro-Woolley. The men attempted to deceive a local doctor about the cause of the one man's injury, but the doctor knew of the shootout and called police.
According to a 1962 interview with Galbraith's son Hugh, the man known as 'Slim' disappeared. Police arrived and arrested the injured man, Mike Donnelly. He spent a month in the hospital before receiving a life sentence at the Walla Walla State Penitentiary. Donnelly, though, seemed to have nine lives; he allegedly escaped from the prison three times, and later received a pardon from his murder charge. He later murdered another man in an Idaho robbery and, after being given another life sentence, was again pardoned after serving just two years.
Two of Galbraith's sons—Joe and Hugh—became noteworthy loggers in the area, and competed in the 1911 Mt. Baker Marathon. Joe won the event, while Hugh summited Baker three times during his lifetime. Another brother, Victor, fell into a crevasse during the final 1913 event and had to be rescued.
Today, Galbraith Tree Farm, LLC sustainably harvests timber from a portion of Galbraith Mountain, while the Whatcom Mountain Bike Coalition maintains the trail system for recreational use.
Bloedel Donovan Park
The park in the Silver Beach area of Lake Whatcom is popular for swimming and boating. But the area was once dominated by a large lumber mill owned by men of entrepreneurial might.
John J. Donovan, the son of Irish immigrants, moved to Fairhaven around 1889. He became involved in local railroad and coal mine operations, while also being pivotal to the development of Fairhaven. In 1890, Donovan's path crossed with Julius H. Bloedel, who'd moved to Fairhaven from the Midwest and would soon be president of Fairhaven National Bank.
In 1898, the men teamed with railroad contractor Peter Larson to create the Lake Whatcom Logging Company. In 1901, their Larson Lumber Company opened a thriving lumber and shingle mill in the area near the present-day park. By 1913, the men had a thriving business, now called Bloedel-Donovan Lumber Mills, and became one of the largest lumber operations on the West Coast.
At one point, the company allegedly owned 1.2 billion feet of timber in Whatcom and Skagit Counties, and Bloedel and Donovan became wealthy philanthropists. In 1937, Donovan, who famously denied the Ku Klux Klan entry in the 1926 Tulip Festival parade, died of dementia at his home, which still stands today at 1201 North Garden Street.
In 1946, the Larson Mill was finally shuttered, and Bloedel gave 12.5 acres of mill land to the City of Bellingham for use as a park and bathing beach; it was officially dedicated on August 11, 1948. Bloedel died in Seattle in 1957. All told, the two men's businesses created billions of pieces of lumber and shingles for use in Whatcom County and far beyond.
Lake Padden
The centerpiece of a 745-acre park on Bellingham's south side, Lake Padden is popular for its picturesque lakeside trail, picnic area, swimming and golfing. The man the lake is named after, however, met a terrible fate.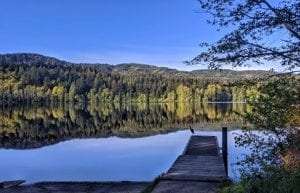 Born in Ireland in 1827, Michael Padden was a homesteader who came to the Happy Valley area from Pennsylvania in 1870. His son, John, born in 1879, was allegedly the first white male child born in the town of Fairhaven. According to a 1956 interview with John in the local history book "Looking Back," Michael Padden operated the Bellingham Bay Coal mine until its 1878 closure, then turned his attention to his homestead.
On March 8, 1880, Padden and his father-in-law were fencing in a piece of disputed land when a neighbor, Susan Clark, angrily confronted Padden about it. The land had recently been re-surveyed and found to be Padden's, but the Clarks refused to agree. Clark told her 10-year-old son, Thomas, who was armed with a loaded shotgun, to shoot Padden. He did, killing Padden instantly.
The Clarks were both jailed in Jefferson County to await District Court action in La Conner. That August, Clark and her son were both found guilty of manslaughter. The mother was sentenced to five years in prison, but hung herself in her cell several weeks later. The son received a new trial in 1881, and his charges were dismissed.
After Michael Padden's death, John and the rest of the Padden family donated the homesteaded land to railroad concerns, and gave water rights to the lake, which was named in his father's honor. John became a sawmill foreman, and also served on the Bellingham City Council in the 1930s. He died in 1969 and is buried in Bayview Cemetery.
Nugents Corner
Despite what your imagination might suggest, Nugents Corner—the Mount Baker Highway hamlet near the Nooksack River—is not named after Detroit rocker Ted Nugent. The place's exact namesake, in fact, remains uncertain, must like its choice to refrain from apostrophes.
A 2006 Bellingham Herald piece by longtime writer Dean Kahn suggests the corner was named after one of three men. The first, Peter Nugent, was an 1870s homesteader who built and operated a ferry across the Nooksack River. Nugent allegedly started his ferry business with a canoe, and then built a scow ferry (a flat, wooden boat to transport stuff); he eventually became ill and moved to California.
Another less substantiated claim is that a Native American named Nugent ran a canoe ferry across the river. Regardless, in 1893, a 740-foot long, 40-foot high bridge was built over the Nooksack at a place supposedly called "Nugent's Ferry."
The third—and perhaps most likely—namesake concerns Henry Nugent, a widowed merchant who opened up a store in the area around 1910. Nugent supposedly helped lobby local officials to build a new and better bridge across the Nooksack. Kahn's article quotes a cousin of Nugent's great-grandson who says she was told Nugents Corner was named for Henry, who died in 1924.
Like so much of history, the truth seems to remain rooted firmly in the past.