Submitted by Doulas of Bellingham
After COVID-19 and social distancing halted all in-person classes, local women-ran business Doulas of Bellingham went digital with their popular childbirth education classes. Families can now partake in this important pregnancy milestone from the comfort and safety of their own homes.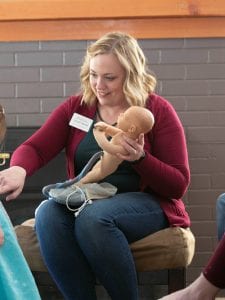 All Doulas of Bellingham courses are being hosted live via video conference. This enables families to ask questions, and get answers, in real time. Students will still partake in activities, try out techniques, receive handouts, and see important visual aids. These classes hold an advantage over typical online classes due to this interactive format and the fact that all courses are focused on birthing in Whatcom & Skagit counties.
"Taking a childbirth class is an essential way to prepare for your birth. Our local OB/Gyn's and midwives reaffirm this to their patients. With hospital policies temporarily blocking in-person doula support, and social distancing preventing in-person classes, birthing families need online classes now more than ever." -Molly Seimears, Doulas of Bellingham co-owner
With the vast amount of misinformation surrounding many polarizing birth topics, current and reliable information is paramount. Doulas of Bellingham's classes are rooted in evidenced based information, and realistic expectations. The unbiased curriculum is relevant to those birthing at either the hospital or home.
Group online classes being offered by Doulas of Bellingham are:
All classes can be done privately online as well. Other specialty classes offered by request only are:
Doulas of Bellingham, LLC provides families with non-medical support throughout pregnancy, birth and the postpartum period. Families utilizing their services can take classes and receive support from certified doulas. Labor support is available for families birthing both in and out of the hospital. Additionally, postpartum doulas are available for in-home care day or night. Doulas of Bellingham's mission is to fill the gap in individualized support that many families experience as their family grows.