For the second year in a row, a group of local hotels are teaming up to ensure access to emergency housing for families in need. The Bowling for Beds fundraising event benefits Lydia Place, a local non-profit that guides families into safe and sustainable housing. It takes place on Friday, March 27th, at downtown Bellingham's 20th Century Bowl.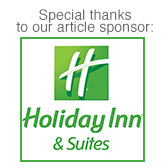 Bowling for Beds is the brainchild of Lydia Place Community Engagement Director Tally Rabatin, who called on some friends to put last year's inaugural event together. "Tally, Dana Weber and I were all in Whatcom Young Professionals together, and we used to do a similar fundraising event," says MegAnne Offredi, Director of Sales and Marketing at Holiday Inn Suites. "Tally had the idea to recreate it, and see if the hotels would work together on it."
Weber is the manager of Bellingham's Best Western, and is active with the Bellingham Whatcom County Lodging Association. "Dana is also a really good, competitive bowler, so all of us are really just out to get him every year," Offredi says with a laugh. The competition can be stiff, with teams representing Best Western Plus, Four Points by Sheraton, Holiday Inn & Suites, Home 2 Suites by Hilton and Marriott's Springhill Suites.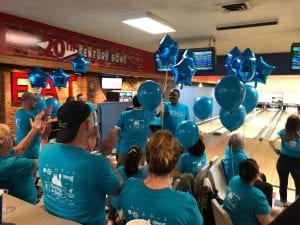 Bowling for Beds is designed to provide a variety of different avenues for companies and individuals to contribute. Some methods are more behind-the-scenes, with the hotels all agreeing to chip in to provide a bottom line. "Each of us donates $1,000 in trade, so that's about 10 room-nights per hotel. Having all the hotels on board gives Lydia Place 50 room-nights to use," Offredi says. "We can also reach out to corporate sponsors and other organizations, and say 'Would you like to donate on behalf of our bowling team?'"
On the other hand, there are also opportunities for individuals to take more direct action. Since the event is open to the public, anybody can visit website, sign up, and pick a hotel to bowl for. "For $50 dollars, you get a t-shirt, two drinks, two games of bowling, and shoe rental," says Sarah Deeder, Public Relations and Graphics Manager for Lydia Place. "We want it to be a fun competition, so we stress that no bowling skills are required."
"And then it all comes together on the 27th, at 20th Century Bowl," Offredi says. "The score for each team gets added to the dollar amount they raised. So you can either bring some ringers—really good bowlers—or partner with corporate sponsors who want to be on your team, and maybe happen to donate a giant check that night, so you can win."
"Whoever raises the most funds, in combination with the team's score, determines who gets crowned the Kingpin Winner for the year," Deeder says.
The need for immediate, transitional housing is not new to Bellingham, and Lydia Place was able to help 167 families in 2019, affecting the lives of 331 children. But there are even more area residents in need.
"Bowling for Beds is an event that we have to raise awareness, but also to set us up so that we can continue to say yes to families," says Deeder. "To say yes immediately when someone comes to us—whether they're fleeing domestic violence or have health issues—and be sure that we can provide a safe and warm place for them, until they can get set up with one of the local services."
Lydia Place is not alone in the work that they do, but they do find that their partners are having similar struggles. "The city has a certain amount of money they set aside for emergency housing, and once that fund is spent—which it always is—then families are put on wait lists," says Deeder. "With the increase of homelessness for families, the wait lists are getting longer. We've made it a goal of ours not to have any kids sleeping in cars, and in taking that on, Lydia Place just last year spent $85,000 on hotel stays."
That provided plenty of motivation for the hotels to come together. Not only do they have the opportunity to underwrite an event that raises both money and public awareness, but it allows them to be a part of the solution.
"It just happened in December, right before the holidays. Lydia Place reached out and said they needed to place a mom and her son in a suite for the next 10 days," says Offredi. "It was amazing. They stayed here, and we had no problems, and they ended up moving directly into an apartment. As a hotel, and as a corporate entity, it's very rewarding when you can be a part of improving lives like that. There are probably stories at every hotel, where we were able to change a family's lives."