Every era has its own take-this-job-and-shove-it fantasy. In the '90s, everyone wanted to quit their jobs and start internet-based businesses. Now we have the food truck craze. Everyone loves a food truck, and for many people, it represents the chance to quit the rat race and be your own boss. But what is it really like to live this way? Tara and Nate Johnson of Sage Against the Machine shared their story.

Tara Johnson grew up in Eugene, Oregon, where her family often went to the coastal town of Florence. Tara was enchanted by a waterfront coffee shop there. As she grew older and began working in restaurants, she dreamed of owning a coffee shop just like that one. "I planned to call it The Kismet," she says. Even after moving to Bellingham to be closer to her aging father, she held on to that dream.
Nate Johnson worked at the Rock Wood Fired Pizza in Lynnwood and dreamed of having his own pizzeria one day. He met Tara online just after she moved here, and came up to meet her. Their second date was a camping trip, and they were married a year later.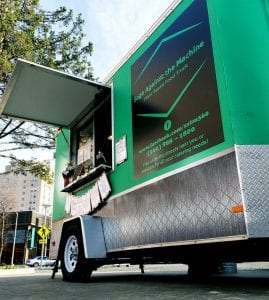 The Johnsons spent hours talking about their restaurant dreams, and finally decided they could get there faster if they started with a food truck. Their truck is actually a trailer, and that was by design. If a truck broke down, they would lose income from not getting to their venue. The trucks that were affordable for them were likely to have problems, so they opted for a trailer that could be pulled by any truck—even a rental, in a pinch.
Getting the trailer ready for business took months. The permitting process and the L&I inspection took an incredible amount of time and energy. Their grand opening was on Memorial Day 2018 at the Kite Festival in Birch Bay. They had to use a tent because permits weren't yet in place for the trailer.
The trailer is tiny: just 7 by 14 ½ feet. Oddly, the space doesn't feel cramped. Everything they need is within reach. While we wait for Nate to return from shopping for the day's fresh items, Tara shows off the food prep equipment, rattling off specifications like the professional restaurateur she is.
Bellingham is ideal for a food truck startup because, Tara says, "the brewery system here creates synergy." Most of the breweries don't have kitchens and rely on food trucks to support events like trivia and open mic nights, and to keep their customers from moving on to find something to eat.
Having a vegan truck means "we complement rather compete with other food trucks," says Tara. Popular menu items include a bbq jackfruit sandwich, quinoa curry wrap, Morroccan quinoa salad, Southwest chipotle "not"chos, a variety of loaded "mac-no-cheese" options, and much more.
When there's a hot dog or barbeque truck and a vegan truck at the same location, everyone gets something to eat. They got in at Kulshan Brewery as a second truck when the regular truck started leaving early after business slowed down. The Johnsons agreed to stay to the end of the shift, whether it was busy or not.
Working the brewery system means giving up some of their freedom and committing to a schedule. They often have to wait months for an opening, and then they have to sign a contract to be at a specific location at a set time every week. "It ties you down, but you need a steady income to make it," Tara says. There are bills to pay, just like any other business. They work without benefits, and no paid vacation or sick leave.
They often work 16-hour days, but love the work. "This is such a great way to meet people," Nate says. "We're all about spreading smiles. If you're still smiling after 16 hours, that's a good day."
The Johnsons are especially proud of their green business practices. They are certified Ocean Friendly by the Surfrider Foundation. The certification process involves a long list of business practices that reduce waste, limit chemical use, and prevent pollution. The only landfill waste they generate is their chip and bread bags, which can't be recycled. They like having a business that's good for the planet.
Like any dream, it takes hard work, determination, and sacrifice, and the end result is not the free and easy life many would imagine it is. Still, for the Johnsons, it's all worth it.