Working together with local businesses, employees and more than 2,500 residents, Downtown Bellingham Partnership is celebrating 20 years of commitment to furthering the vibrancy and growth of the downtown neighborhood. As the Partnership looks back on successes and ahead toward new challenges, they continue to champion a thriving, healthy downtown community full of opportunities to work, shop, learn and play.
"Community among small businesses downtown doesn't just happen by itself," says Downtown Bellingham Partnership Assistant Director, Marissa McGrath. "We're building it together—through shared community values, with support from City government like the Planning Department and the Council, and through what we've tried to do at the Downtown Bellingham Partnership."
20 Years of History Downtown
Bellingham's downtown went through what most city centers across the country experienced beginning in the mid-1970s and lasting through the 1990s—an exodus of retail business from downtown centers toward malls and mini-malls. When Bellis Fair Mall opened in 1988, some of downtown's major retailers left, including Sears, Cineplex Odeon, JCPenney and The Bon Marché. Their absence had a noticeable impact on the community. "When you have vacant spaces, there's no one in that storefront, so when graffiti happens or garbage is left, there's no one there to clean it up," McGrath says.
In 2000, several downtown property owners saw the need for revitalization and with the help of Mauri Ingram, now President and CEO of the Whatcom Community Foundation, the Downtown Renaissance Network was formed. "It later became known as Downtown Bellingham Partnership. They did things like putting out flower baskets in the spring time and organizing Art Walk," says McGrath. "Eventually they developed other events that brought the community together, like Downtown Sounds, now in its 16th year."
Downtown Bellingham first began as a membership organization, but eventually evolved to a more inclusive model that represents and supports a diverse group of business owners—taking into account their priorities, perspectives and widely varying needs.
"Mayor Kelli Linville was a big part of us becoming a National Main Street America accredited organization," McGrath says. "That allowed us to support the entire neighborhood, but also came with challenges. Accreditation has given us access to resources so that we can see what has worked in other communities, plus case studies and networking opportunities with 33 other cities in Washington State."
Over the last two decades, the partnership has grown from two to nine full-time staff members. Events Director Lindsey Payne Johnstone is coming up on her 12th year with the partnership, having started as an unpaid intern. Retail Advocate Jennifer Walters supports existing business owners and helps new businesses sail over the hurdles of opening their doors downtown.
This small but industrious group has changed the face of downtown. Two staff members are now dedicated to ongoing landscaping improvements. Many commissioned murals have enlivened common areas and alleyways, bringing art and vibrancy to downtown streets.
"We've been really lucky to have the leadership of our Executive Director, Alice Clark, over the last four years. She came to us after helping to found the Pickford Film Center and leading the organization through a $3.25 million dollar campaign for their new facility on Bay Street. After that, she had her own pie business at the Bellingham Farmers Market, so she understands this community well," says McGrath. "She's been a hugely stabilizing force and thoughtful, deliberate, considerate and compassionate. She's helped us get the tools to succeed so we can do better work for downtown."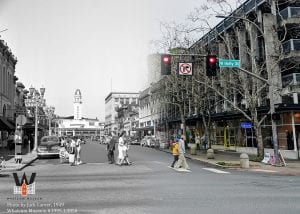 To celebrate its 20th year, the Downtown Bellingham Partnership has launched a photo project called the 2020 Perspective. "We've been working with the Whatcom Museum's Photo Archives to find photos of significant periods in downtown's history and blending them with modern day photos to produce a hybrid of past and present," says Downtown Bellingham Events and Promotions Coordinator, Calista Klein. "We'll focus on the role the Partnership has played in bring about those changes. It's also a fun way to look back at how downtown has changed over the years."
Growing Events That Build Community
Downtown Bellingham Partnership works hard year-round creating events that bring community together in the downtown neighborhood. "Our mission focuses on celebration, commerce and culture, so we try to do things that bring people into downtown as much as possible," McGrath says. "But we're also focused on promotion of the neighborhood, showing it in its best light and introducing it to people as an exciting place to spend time."
First Friday Art Walk, held the first Friday of each month from 6:00 p.m. to 10:00 p.m., began as Gallery Walks in the 1980s and has evolved to include more than 25 galleries, studios, museums, shops, breweries and restaurants each month. Hundreds of art lovers explore a showcase of the creative talent found in Bellingham's art scene while getting to know local businesses.
Popular Spring and Holiday Wine Walks allow downtown shops and galleries to host pop-up tasting rooms that feature a variety of regional wines. The Spring Wine Walk, now in its 6th year, is scheduled for May 8 and often sells out.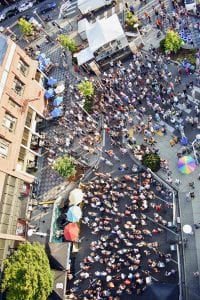 The summer months are dominated by Downtown Bellingham's most popular event, Downtown Sounds. Its 16th season kicks off in July and runs for five weeks through August. With WECU continuing a Premiere Sponsorship of Downtown Sounds this year, the concert series keeps growing.
What first began as a small alley revitalization project has evolved to draw 3,000 to 4,000 people on a Wednesday night each week. Bay and Prospect Streets are closed between Holly and Champion Streets to accommodate this free public event that showcases the music of both local and touring bands.
Dancing, food trucks and vendors, a beer and wine garden (featuring Boundary Bay Brewery and other Bellingham beers and ciders, as well as Haggen-exclusive wines), family-friendly activities and special events in surrounding businesses make this a fun-filled community-building event.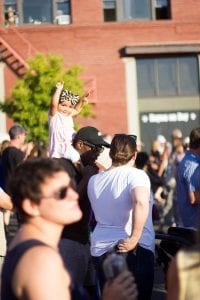 WECU will host a "Game Zone" where concertgoers can play scaled-up games like giant Jenga and WECU pong. WECU also offers different summer treats at each concert and special giveaways to their members.
Holidays get in the mix, as well. Hundreds of trick-or-treaters descend on downtown businesses on a weekday afternoon on or just before each Halloween. Around the winter holidays, the Partnership focuses on Shop Small Saturday (the Saturday after Thanksgiving) as well as a Downtown Holiday Festival in early December that features a tree lighting ceremony, live music and an artisan vendor market. Santa, cocoa, craft tables, food trucks, a 21+ bevy garden and specials inside downtown businesses make for an incredible holiday experience for the whole family.
Downtown Bellingham Continues to Evolve
While looking back at all the events, beautification and connection they've accomplished over the past 20 years, Downtown Bellingham Partnership is equally excited about all that lies ahead. They'll continue to represent downtown residents and business owners during the ongoing Waterfront District Redevelopment, an extensive effort that will bring new business and industry and thousands of residents and tourists through downtown.
"I see us working toward getting everyone on board with the collective vision of our future. Together we'll need to gracefully adapt to necessary changes that relate to parking, growth and evolving commercial rent," says McGrath. "We'll need to collaborate and compromise on these issues to continue to progress and grow together." Their collective effort and vision are poised to further position downtown Bellingham as a center for culture, commerce and fun for the Bellingham community and beyond.
Join in their 20th Anniversary celebration by submitting your old photos of downtown to calista@downtownbellingham.com. Follow the Partnership's Instagram account and the hashtag #DTBham2020 to see new hybrid photos each month of the Downtown Bellingham's 2020 Perspective.
Featured photo courtesy: Downtown Bellingham Partnership
Sponsored