Inevitably, around the beginning of summer each year, people start coming up to Lindsey Payne Johnstone to ask when Downtown Sounds is starting.
Downtown Sounds—the summer concert series that takes over downtown Bellingham's Bay and Prospect Streets each Wednesday evening for five weeks in July and August—will kick off for its 15th season on July 10. The event has grown over the past decade-and-a-half to become a summertime staple in Bellingham.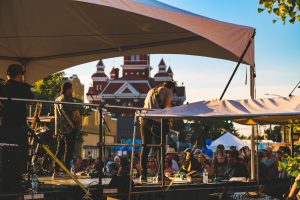 "That's really part of its charm, watching the series evolve," says Payne Johnstone, events director for the Downtown Bellingham Partnership.
This year, the Downtown Bellingham Partnership partnered with WECU as their premier sponsor, allowing them to host a robust music lineup and offer more family activities each week. WECU has supported Downtown Sounds for many years, but this is the first year they're working with the Downtown Bellingham Partnership at the premier level.
"They committed to supporting the event at a new level because they genuinely know how much it means to the community, and that's a really great partnership to have," Payne Johnstone said.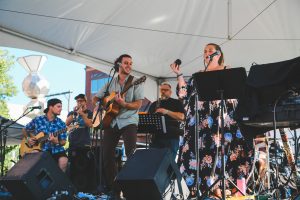 As part of this year's event, the family area along Prospect Street will feature the WECU Game Zone, where the local credit union will provide cornhole, giant Jenga, giant "WECU pong" and other games. They will also be handing out favorite summertime snacks, like ice cream sandwiches and juice boxes.
The expanded layout from last year will return, along with extra beer taps and increased floorspace in the beer and wine garden. Haggen Food and Pharmacy is a supporting sponsor of this year's Downtown Sounds, and will be pouring from their wine selection in the beer and wine garden.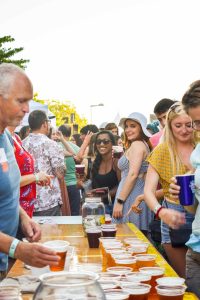 "We wanted to take the beer and wine garden to the next level," Payne Johnstone says. "Haggen rounded up some great rosés, whites and reds for this year, plus their wine stewards are the ones pouring, so trust me, it's not just about beer at Downtown Sounds!"
They're also bringing in more food vendors this year.
As for the main event, Payne Johnstone has been working on the lineup since November. The summer series will kick off with An Evening With Polecat & Friends. Various Polecat side projects will play the opening set, featuring many guest musicians that will join members of the band onstage for a wide-ranging set, including dance-inducing Reggae and World music sounds, a 25-person fiddle rally, Tom Petty covers by Petty or Not, and more, Payne Johnstone says.
The second half of the night will be a full Polecat set (sometimes referred to by Payne Johnstone as an Americana/Celtic/World Smile&Stomp fest) with a few special guests thrown in the mix.
"It's going to be a celebration of some of Bellingham's favorite musicians and it's a quintessential way to kick off the 15th anniversary," says Payne Johnstone.
On July 17, the series continues with the Grammy-award winning Rebirth Brass Band, a brass and funk band that plays each year at the New Orleans Jazz Festival.
The next two weeks will host Orchestra Zarabanda from Seattle, and then Sepiatonic from Portland.
The series closes out on August 7 with Monophonics, a San Francisco-based soul band.
"Monophonics has always been a favorite of mine and I'm so excited we are finally able to bring them up this year," Payne Johnstone says.
For a full list of the artists and opening acts, visit the Downtown Bellingham Partnership website.
When Downtown Sounds first began 15 years ago, it was not the two-city-block affair it's become. The summer series was originally held in the alleyway between the Wild Buffalo and Mindport. On its fifth anniversary, it moved to Bay Street, and in the last few years the festival has expanded to take over both Bay and Prospect Streets from Holly to Champion Street.
Those who attend the show each year know that even with the expansion, the blocks are packed with people. These days, between 3,000 and 4,000 people attend the shows each week.
Payne Johnstone would be reluctant to move the series again, though, she says. They've found the perfect location.
"I love that you can see the bay, I love that you can see Old City Hall," she says. "And all the neighboring businesses help make it what it is."
The surrounding businesses, including Bayou on Bay and the Wild Buffalo, support the series each year. The SPARK Museum opens its doors during the entire series to provide a private space for staff, volunteers, artists and a ton of event gear.
"It's amazing how everyone comes together to make it happen," Payne Johnstone says. "We prepare for the shows, then attendees fill the streets, and then we break it all down in an hour and a half that night. It's kind of mind blowing."
Downtown Sounds is also supported by Groove Merchant Northwest, the event's production team since the first year of the series, Freeland and Associates, Boundary Bay Brewery, Best Western Heritage Inn and the City of Bellingham.
The concert area opens each week at 5:30 p.m. and the shows are free and open to the public. The beer and wine garden is restricted to those age 21 and over.
Sponsored