Submitted by: Lions Camp Horizon
Volunteers from Americorps National Civilian Community Corps (NCCC) and several Whatcom County businesses have come together to provide Lions Camp Horizon with more than 3,300 hours of volunteer service in preparation for their summer camp season. The camp provides meaningful social and recreational experiences for individuals with disabilities ages 12 and older via six week-long overnight camp sessions each year.
"More than 250 campers will be visiting us this summer. It's essential to us that every camper feels welcome, safe, and comfortable. Doing this on a shoestring budget is no easy task, but our volunteers make it possible. The accessibility improvements they've made this past month are going to make a world of difference," says Tera Contezac, the camp's executive director.
The Americorps NCCC Green 5 Team, serving together for 10 months and made up of 9 young adults from across the United States, is residing at camp for 8 weeks while they repaint the dorms, replace handrails, and complete major sidewalk renovations, in addition to regular maintenance and beautification of the grounds.
Americorps member Taylor Mugford says, "Helping at Camp Horizon has really opened my eyes to the different ways that we should be accommodating to people with special needs and that is something that I will carry with me after this program."
The Americorps team hasn't been alone in their interest in improving the camp. Windermere Real Estate recently selected Lions Camp Horizon as the recipients of service for their annual Community Service Day. Nearly 100 volunteers contributed to landscaping projects as well as two major accessibility improvements: upgrading the fire pit to be truly wheelchair accessible and building bed risers to create a more comfortable and independent experience for campers with limited mobility when getting in and out of bed.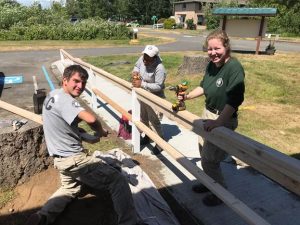 "We wouldn't be open if it weren't for the incredible level of volunteerism we have. They say that when the work is important, people show up to support it. It that's true, what we're doing here has got to be wildly important," says Contezac.
Additional support for Lions Camp Horizon's major upgrades this season has come by way of in-kind service and material donations from: Cadman Inc.; Cowden Gravel & Ready Mix; Lil Scoop Bobcat Inc.; Mt. Baker Mobile Mixing, LLC; Peterson Construction; and Smith Gardens.
Camp sessions run throughout July and August. 2019 camp sponsors include: Dewey Griffin Subaru, Community Food Co-op, Nature's Path Organic, Anytime Fitness, Bellingham Cold Storage, Don Hale Team, WECU, D&D Insurance, Goodwill, and Moreno & Young Dental.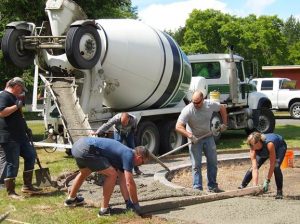 Lions Camp Horizon is a non-profit organization. To learn more, make a donation, or register a camper, visit LionsCampHorizon.org. To become a business sponsor or learn more about volunteering, email tera@lionscamphorizon.org.
About Americorps NCCC
AmeriCorps NCCC is a full-time, residential, national service program in which 2,800 young adults serve nationwide each year. During their 10-month term, Corps Members – all 18 to 24 year olds – work on teams of eight to twelve on projects that address critical needs. Traditional NCCC members work on a variety of different six to eight-week projects related to natural and other disasters, infrastructure improvement, environmental stewardship and conservation, energy conservation, and urban and rural development. The Pacific Region campus in Sacramento is one of four regional hubs in the nation and serves ten states in the western part of the country.