The exciting moments leading up to a theatre performance can be captured in bits and pieces. The lobby is often filled with eager murmurs of patrons, perusing programs with the crinkly sounds of paper. As the doors to the theatre open, the stage greets audience members and murmurs increase in speed. The faint hint of fresh paint can still be found in the air as the lights dim over the audience and a story begins. For the first time in recent years this suspended moment of anticipation will be available during 24 shows in July at the FireHouse Arts and Events Center as Bellingham TheatreWorks presents their most ambitious program yet: Fairhaven Summer Repertory Theatre.

Fairhaven Summer Repertory Theatre will be performing three different shows with six performances each week: Wit by Margaret Edson, Cat on a Hot Tin Roof by Tennessee Williams, and The Clean House by Sarah Ruhl.
"We put out a query to our email list, asking for suggestions for plays to produce this summer," says Steve Lyons, producing director of Bellingham TheatreWorks. "These plays came to us through that query."
Fairhaven Summer Repertory Theatre is a program under the established theatre-based nonprofit Bellingham TheatreWorks, which was founded by Mark Kuntz and Lyons and has been focused on producing stories representing the Pacific Northwest since 2014, with an emphasis on local actors and local playwrights.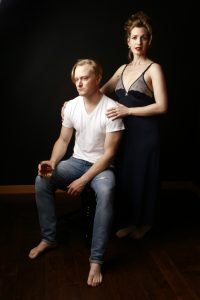 "Bellingham has two affordable performing arts venues that are available to the community: The Sylvia Center and the FireHouse. While we produce at both venues, we really wanted to work with Teresa Dalton, the new owner of the FireHouse," says Lyons, "Fairhaven is being designated a 'Creative Arts District' by the Washington State Arts Commission and this venture fit nicely into Fairhaven's renewed focus on the arts."
The mission of Fairhaven Summer Repertory Theatre is to produce high quality and affordable theatre, and pay actors, designers, and crew for their dedication to the productions. All while upholding Bellingham TheatreWork's values, as well.
"This is a huge undertaking, with a budget that's much more daunting than our typical budgets. What has surprised (and relieved) me is that funders, businesses, and individuals have realized this is something special for the community and have stepped up and supported this effort," says Lyons.
Fairhaven Summer Repertory Theatre's 2019 fundraising goal is $10,000 and they have been actively working toward it with a Kickstarter campaign to raise $2,000 and through collaborations with businesses in Fairhaven and other connections, like Dr. Marie Eaton of the Palliative Care Institute at Western Washington University. Dr. Eaton informed Lyons and Kuntz that if they produced a play with a focus on death and dying, the Palliative Care Institute could partner with the theatre.
Theatre can oftentimes act as a door to opening hard conversations and has the ability to bridge communication on difficult topics. While the themes of each of the plays involve quality of life they do so with copious amounts of levity. Dr. Eaton will be hosting talk-backs July 7th, 14th, and 21st, after the Sunday Matinee shows at the FireHouse Arts and Events Center.
Fairhaven Summer Repertory Theatre has been focusing on giving the community opportunities to engage before taking a seat in the audience, through open rehearsals, Q&A sessions, and social media. A special dramatized lecture known as The Wisdom of Wit, a 55-minute performance by Megan Cole who played the leading role in the original production, will be followed by a talk-back led by Cole and Dr. Eaton of the Palliative Care Institute.
The idea for summer theatre has been a work in progress for several years for Kuntz and Lyons. From 2008 to 2013, under the direction of Kuntz, the Mount Baker Theatre produced a series of three plays during the summer, as well as a fall musical. Kuntz left the Mount Baker Theatre in 2013, and the repertory theatre program folded shortly thereafter. Lyons felt that the demise of the popular summer repertory series left a hole in the Bellingham arts community.
"Since 2014, Bellingham TheatreWorks has focused on new work by Pacific Northwest playwrights that tells stories of the Pacific Northwest. So doing Pulitzer Prize plays is new territory for us," says Lyons. "We would like to continue to spend the summers with more known works and spend the rest of the year with newer plays and world premieres."
Fairhaven may have landed an authentic summer repertory theatre program for years to come with the support of donations, the arts community, and an enthusiastic audience.
"These are three plays with strong female leads written by two female playwrights and one gay playwright," says Lyons, "The Bellingham arts community has been lacking summer repertory theatre ever since Mark Kuntz left the Mount Baker Theatre. Now, under the direction of Mark Kuntz, Bellingham TheatreWorks is bringing back summer repertory theatre to Bellingham!"
Fairhaven Summer Repertory Theatre
July 2nd – July 28th, 2019
FireHouse Arts and Events Center
1314 Harris Ave (near 14th) in the Fairhaven area of Bellingham
Purchase tickets via Brown Paper Tickets, at the FireHouse Cafe, or at the door.
Season tickets for all three plays are $50
Individual tickets are $20 each
Featured photo by Doug Scott