They say that, in the not-so-distant past, a gentleman who lived on Eliza Island decided he could make his fortune by breeding cats. A little strange maybe, given that cats don't seem to need much help in that regard, but not too alarming. He would, by the way, be breeding all black cats. Certainly a bit peculiar, but to each their own, right? He would be breeding them, it turned out, to skin them and sell their pelts. Well, that last part didn't go over too well with the city, and when he learned they weren't on board with his scheme, he simply turned his flock loose. According to folklore, the cats somehow make their way to Fairhaven, which led, in the 1970's, to Fairhaven being besieged by a scourge of feral black cats.
What better way to commemorate such a proud and distinguished part of our past than to now commission Fairhaven artists to create statues of black cats, which could then be "hidden" all around the historic area for the public to seek out?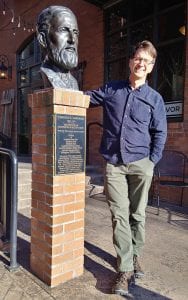 This is just one of many ideas that's crossed the mind of Scott Ward – a Fairhaven business owner active with Allied Arts and the executive director of the Historic Fairhaven Association – since he saw that the Washington State Arts Commission was looking to lend a hand to communities that consider themselves Creative Districts.
Incorporated in 1890 and made a part of Bellingham in 1903, the Fairhaven neighborhood has remained a bit separate from the rest of the city. In the past there were growing pains, including squabbles over economics and public services. Today, the relationship is much more robust and healthier.
Still, if you were to ask ten different people what they think Fairhaven is, you'd likely get ten different answers. Is it a quaint tourist throwback, or a fancy date destination? It could be an opportunity to preserve historical heritage, or an easy place to grab a burger and a beer.
One thing is certain: Fairhaven boasts an impressive concentration of creative types. The sidewalks may be lined with restaurants, clothing boutiques and specialty stores, but in between and on the floors above these businesses, another world of studios and galleries create, display and sell art and artistic services.
In Ward's mind, there was no question but to jump right in. He brought the idea to the Historic Fairhaven Association, which works to promote businesses, preserve heritage and improve community engagement. They supported him right away. After submitting a letter of intent to the Commission, he put a call out to the city, the community, business owners, property owners, artists and performers. He soon found a dedicated group of around 25 people happy to help him get the ball rolling.
There was more than enough work to go around. For example, the state wanted to know how many creative businesses operate in Fairhaven, and how many creative workers they employ, so Ward found himself scanning through a list of every business licensed to operate in the area – and thinking about what creativity really means. You might not think of a restaurant's kitchen as a hotbed of the arts, but doesn't a chef have to write a menu that sets a mood, and find a way to properly present dishes to follow that theme? And then there's the bookstore that hosts writing groups, the tattoo artist working with her client to bring imagination to life, the graphic artist, the yoga instructor, and so on.
After sifting through all of that information – and answering questions about demographics, schools, and children engaging with these creative businesses – the application will be filed, and then the group will await the Commission's decision.
The Creative District program is new – Edmonds was the first designated community, in 2018 – but it's clear that the title can help the area in multiple ways. Direct economic benefits come in grants that support artistic programs and creative endeavors. There are also indirect perks, such as using the new recognition to bring more tourism to the area. And of course there is the intangible but very real boost that comes with the official seal of approval for the arts scene. It's that kind of recognition, and the support it garners, that can go a long way to sustaining and even increasing a creative hub.
So, what else could all of this support accomplish? Ward has gathered plenty of ideas, including public art. You've likely seen the statues all around the historic district: J.J. Donovan, C.X. Larrabee, Dan Harris and even Mark Twain are on display. While they all have their place in local history, all of them also happen to be white, European males. They certainly weren't alone in creating Fairhaven's history, so why not broaden our view, and add remembrances of more area characters, including women and indigenous people?
And since the Bellingham Theater Works is already active in Fairhaven's FireHouse Arts and Events Center, it's easy to imagine commissioning a piece of musical theater to tell the story of our local history, written by local artists, produced by the Fairhaven Summer Repertory Theater, and staged on the Village Green. Truly, there is no shortage of ideas on tap.
The project's work is far from finished, and any community members interested in this vision for Fairhaven's future can keep up on developments through the Historic Fairhaven Association. Those willing to lend a hand in making it a reality are encouraged to contact Scott Ward.
Sponsored