Bellingham earns its way onto a lot of "Best of" lists: Best Places to Live, Best Places to Retire, 100 Best Places to Live and Launch. On the flip side, it occasionally lands on some of the worst. "The detractor is the cost of living here, compared to the average income," says Dave Kangas, designer at Bellingham's A-1 Builders.
It's no secret that homes are hard to come by in Whatcom County. It's been labeled a housing crisis and city governments are taking note. High demand from residents has encouraged officials to pass legislation allowing accessory dwelling units (ADUs) or detached accessory dwelling units (DADUs) in most neighborhoods.
An ADU can be a basement, second story or an attached garage. "A detached ADU (DADU) would be a carriage house or a caretaker house, typically above a detached garage," says Maggie Bates, design manager at A-1 Builders.
Adding an ADU or DADU onto your property significantly raises the value of and potential income from your home. It also helps alleviate the housing problem by creating extra living spaces for a small family, college students or family members.
ADUs are a popular option for families taking care of aging parents. "People want to stay in their homes, they might need a caregiver, or they might not want to be alone on their property," says Bates.
On the surface, adding a living space to your property can seem like a simple concept, but under placid waters run a host of issues, red tape, permitting, and constant shifts in rules and regulations that vary by city and neighborhood.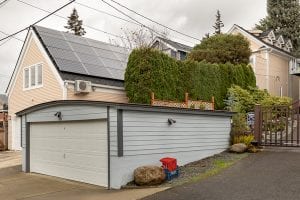 Hundreds of moving parts can change on a dime, leaving homeowners frazzled and frustrated by the system. By the time you have a permit, the rules often change, which can leave you at a roadblock midway through construction.
Clients often come to A-1 Builders because they've already experienced what can be a very frustrating process. They tell designers: You do it, please. I don't ever want to go through this again.
A-1 Builders is a company of experts, designers, construction crews and project managers who all have experience working with city governments and ever-changing regulations.
"There are similarities and differences with each jurisdiction," Bates explains. "Square footage is part of the code, how many bedrooms, how much parking's required, how the entry is configured. Owner occupancy is dictated and, in most cases, has to complement the style of the house. Every permitting office has its own set of rules."
Patrick Martin, general manager at A-1 Builders, points out further complexities. "Even if it's just a box with a kitchen and another box with a bathroom inside of it, we've got all these layers of rules we have to follow," he says. "It's basically building on an entire house and having it make sense with the existing one. It can go wrong in a variety of ways from expense, to time, to stylistic variations."
Seemingly small details can add serious complications to the build. "You don't have to separate your utilities in most cases, but everybody who's living there has to have access to the box to shut off the power," says Bates. A breaker box located inside the main house can significantly complicate things.
Shared meters are another reason to consider the efficiency of your unit. Homeowners don't control the behavior of ADU residents, so efficiency is key to keeping costs down.
The good news is that permits are usually attainable and environmental impact fees are often reduced for these small structures.
But when it comes to ADUs and DADUs, their small size, high utilization, and proximity to the main house require every detail be addressed.
A-1 Builders can soundproof shared walls with noise-deadening drywall and their experienced architects plan spaces to reduce sound in quiet rooms and add visual screens for privacy.
It's important to carefully consider every material used inside the ADUs. "Choosing a material that's durable is going to last longer and be replaced less frequently," says Martin. "These are small spaces, so the decision of a crappy floor to save [money could] create a toxic environment."
Every detail counts. "The glue that's used and fabricated in the cabinetry, the paint, the floor, the heating system, how well it's ventilated and insulated," says Martin. "These are all going to factor in, even more so than for a large house, which won't have that level of use."
If you'd like to add an addition on your home, call A-1 Builders for a feasibility study. An expert will come to your property, assess the space, and study current regulations for your city and neighborhood.
"Next, we give some rough help with your budget," says Martin. "Once you find out that it's doable with the city and your budget, then we go forward with designing and building."
Give them a call a year before you're ready to go, he suggests. "Half of that time is waiting, and half is developing the project."
There's no such thing as a simple ADU project. "Until we finish, homeowners don't realize the breadth and the depth of information that needs to be identified and addressed," says Kangas. "At the end, our clients are very thankful we've not left them to figure it all out on their own."
Call the experts at A-1 Builders and let them do the heavy lifting for you.
A-1 Builders
3310 Northwest Avenue in Bellingham
360-734-5249
Sponsored