Walking through Whatcom County parks, you may have seen baskets made of chains and heard their metallic clanging resound through the trees. These are targets for disc golf, a modern combination of two age-old sports and subject of recreational groups such as Whatcom Disc Golf Club.

Since 2011, Whatcom Disc Golf Club has been devoted to expanding the sport throughout the county. "Our mothership course is Cornwall Park," says club president Ryan Klassen. Established in the mid-nineties, this nine-hole course was Bellingham's only spot for disc golf until the club helped create more.
Early on, Whatcom Disc Golf Club and Sudden Valley established eighteen-hole Mossy Roc Disc Golf Course at a former campground site. After this course and the club briefly closed, both reopened in 2015. Since then, Whatcom Disc Golf Club has partnered with cities to establish an eighteen-hole Blaine Disc Golf Course at Lincoln Park and a nine-hole course at Ferndale's VanderYacht Park.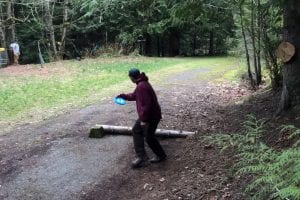 Klassen says that when the club restarted, they worked to make things more official. "We wrote up some bylaws, created a board, [and] partnered with a nonprofit organization," he says. That organization, Discovering Open Spaces, supports disc golf throughout the state. An estimated 175 people have joined the club since its revival.
"It's like we have just seen…leaps and bounds, tons of people getting onboard; a lot of people getting more interested in disc golf," Klassen says. "We've helped establish two new disc golf courses within the last three to four years, so there's been a lot of really cool things happening."
Throwing Your Disc Into the Ring
Disc golf has the simple goal of landing a disc into a basket in the fewest turns possible. Disc types, throwing styles, and special rules or strategies create an additional challenge.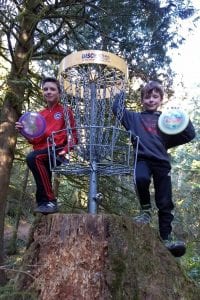 "It's economical, too," says Klassen. "Most disc golf courses around the world are free."
Getting into disc golf only requires buying specialized rubber discs, available at Yeager's Sporting Goods and Cosmic Games in Bellingham and Ace Hardware in Ferndale. Klassen says longtime players often give away discs and carry more than they need.
"You'll probably need at least one to start, and as you get used to playing you'll probably end up having a couple different Frisbees," says Klassen. "They've got drivers, midrange, and putters. There's endless amounts of styles and brands and types of Frisbees you can use."
In addition to good sportsmanship, Whatcom County disc golfers enjoy scenic backdrops of woods and fields.
"There's all different ranges of disc golfers," says Klassen. "Some are really competitive, and some are a bit different: to get outside and hang out with friends and throw the Frisbee. So it creates a good purpose to get outside without just necessarily walking around, enjoying nature—and it's so much fun."
Club Activities
Many people learn about Whatcom Disc Golf Club from flyers at Cornwall Park and other courses. Joining simply involves contacting them through Facebook or email.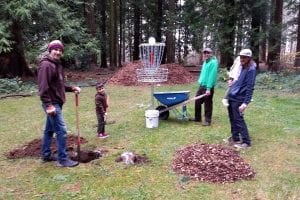 "People are friendly and more than willing to try to get people involved," says Klassen. "So you don't have to be good at Frisbee, you don't have to be an athlete. I would say you've just got to be willing to get out and try it out. And the more you play, the better you get—and, I think, the more fun you have."
For small annual fees, members get identification tags, discounts for business sponsors, and special access to courses and events. Weekly activities include glow-in-the-dark Frisbee, doubles, and handicap league.
Chief among Whatcom Disc Golf Club's events is the Cornwall Classic: a two-round, eighteen-hole tournament in late September.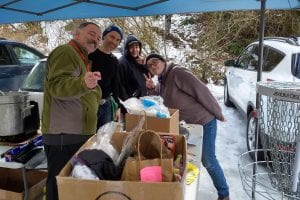 "We have a lot of local companies or organizations sponsoring the event," says Klassen. "There's usually lots of prizes given out, and we usually have over 100 people playing in the Cornwall Classic."
Blaine Disc Golf Course hosts the Battle at the Border tournament in June. Whatcom County Disc Golf Club also participates in the Ice Bowl, a global disc golf event in winter that raises money for local food banks and other charities.
Expanding the Sport
Overall, disc golf has left Whatcom County parks and open spaces safer, cleaner, and teeming with more people having fun outdoors.
"We're hoping to get more courses developed," Klassen says. "We're hoping to get more youth involved. We think that this is a really good family-friendly, youth-friendly, everybody-friendly activity that everybody should get involved in."
Lynden is one place in the club's sights because it once hosted a nine-hole course that has since been removed. In the meantime, Whatcom County Disc Golf Club holds work parties to maintain existing courses. Mossy Roc in particular has benefited from new amenities.
Whatcom Disc Golf Club invites all to enjoy local disc golf by its motto: "Play Fair, Respect Others, Have a Good Time."