Although far northwest of the Oregon Trail and farther still from America's agricultural heartlands, Whatcom County shares in the legacy of pioneer farming. Two historic places in particular—Berthusen Park in Lynden and Hovander Homestead Park in Ferndale—stand out.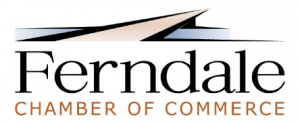 Lynden Pioneer Museum thoroughly documents Berthusen Park, notes Director Curator Troy Luginbill. Whatcom County Parks and Recreation Historical Docent Coordinator Courtney Strehlow says visitors can tour Hovander Homestead from Memorial Day to Labor Day. However, simply walking around these parks reveals profound historic and natural preservation.
Berthusen Park
Born in Norway and living throughout the U.S. most of his life, Hans Berthusen (1860-1944) settled the eventual Berthusen Park in 1883. He learned about the land from Emmett Hawley, Lynden's third pioneer, who wrote Skqee Mus, or Pioneer Days on the Nooksack.
"To get to downtown Lynden from Berthusen Park at that point, by horse and buggy and by foot, would be maybe an hour, hour-and-a-half trip," says Luginbill. Berthusen instead held get-togethers, building "a picnic table that could seat the entire town of Lynden" (roughly 250 people). As that number grew, so did Berthusen's barn.
"That he wanted the community to meet and somehow be preserved through its meeting at his place is an aspect you'll find running all throughout Hans Berthusen's life," says Luginbill.
Berthusen married Hawley's sister Lida in 1889. Being unmarried, their adoptive daughter Pearl could not sell the property and Berthusen had the City of Lynden establish the park upon his death in 1944.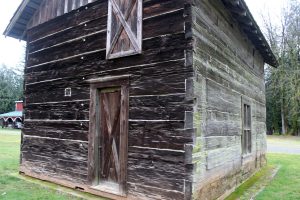 The picnic table and cedar smokehouse mentioned in Skqee Mus no longer exist. The homestead burned in the 1950s, but locals rescued many items, Luginbill says, which "we're still finding around the community."
Berthusen's barn and cedar stump privy remain. Luginbill says the barn is "one of the few bank barns of its type anywhere in Washington" and conspicuously "built by a shipwright."
Luginbill calls Berthusen Park "the last remaining stand of original old growth forest in northwestern Washington State" lowlands. Whereas his neighbors clear-cut their lands, Berthusen preserved 18 acres of old growth and 80 acres of modified old growth.
"It is probably the single most accurate representation—because of the old growth and the preservation of the barn and such—of what pioneer life actually looked like," says Luginbill.
Hovander Homestead Park
Born in Sweden, Hakan Hovander (1841-1915) bought his Ferndale homestead in 1898 after decades traveling the world.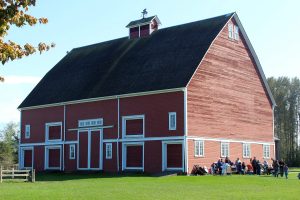 Hovander sailed to the U.S. in 1865, working for years in San Francisco, Portland, and Chicago as a builder following decades studying architecture in Sweden. Strehlow says the park preserves "original drawings from buildings he designed in Sweden," and "even the trim" evidences the house's Swedish architectural influence.
Hovander married Louisa Leontine Johansdotter in 1879. Six of their seven children—Hugo, Elsa, Otis, Angelo, Charles, and Ada—were born in Sweden; the seventh, Vera, was born at Hovander Homestead. Otis, who never married, inherited the property after Leontine's death in 1936 and sold it to Whatcom County in 1969.
"We have the house, the barn, the milk house, the water tower, the fruit drying shed or evaporator shed, all still standing," says Strehlow. The house has a dining room, kitchen, library, three bedrooms, and unfinished second-story interior. The barn and animals recall the land's dairy farming history.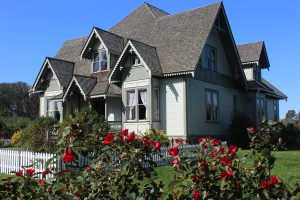 "We're bordered here by the Nooksack River, which floods almost every year, which creates really great farmland," says Strehlow. "So we've got this cool combination of cultural and natural heritage here on the homestead."
This combined heritage distinguishes Hovander from other parks.
"It is a very popular place for people to come, for the Ferndale community as well as throughout Whatcom and internationally," says Strehlow. "We have people coming from Germany, Japan, Sweden… it's pretty amazing."
Landscapes' Legacies
These parks offer many attractions today.
Puget Sound Antique Tractor and Machinery Association holds its Antique Tractor and Steam Show every summer at Berthusen Park. They maintain new buildings displaying antique equipment, including boats Hawley used for clamming and parties on Lummi Island and an 1870s-era cabin.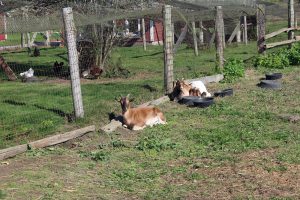 Berthusen Park's trails include 3-mile Eagle Loop and 0.8-mile Owl Trail. Lynden Centennial Troop 2010 had Eagle Scout Projects mapping these trails, and Lynden Girl Scout Troop #50067 installed a Letterboxing course.
Hovander Homestead Park is a stopping point between the Ski to Sea race's biking and canoeing legs. Friends of Tennant Lake and Hovander Park host events, and WSU Master Gardeners host garden tours.
Hovander's 1.3-mile loop trails branch east toward Fragrance Garden and Tennant Lake's boardwalk. Nooksack River Trail extends 2.3 miles south to Marine Drive (Discover Pass required).
You can learn more pioneer history by visiting Ferndale's Pioneer Park or Lynden Pioneer Museum, or becoming a docent at Hovander.
"Get involved with your local museums, historical society, parks department," says Luginbill, "anyone that has a love and understanding of why history is important,"
With learning, Strehlow says, "you can be more conscious about the history of Whatcom County and how to preserve it."