The Whatcom Family YMCA reaches many different people through its various classes. Those with Parkinson's have found a great resource through the Y's commitment to Rock Steady Boxing, a program for people with Parkinson's, and with Pedaling for Parkinson's spin class, both of which are geared just for them.

Five years ago Nan Little, a University of Washington professor who has Parkinson's and is a great friend of the Y, approached the Whatcom YMCA with some ideas. She'd heard about excellent results seen by neuroscientist Dr. Jay Alberts at the Cleveland Clinic in spinning classes for those with Parkinson's.
YMCA Healthy Living Director Tammy Bennett worked to set up the classes, which are now part of a national case study that monitors participants in Bellingham and Denver, including real-time heart monitors that show data on participants as they spin.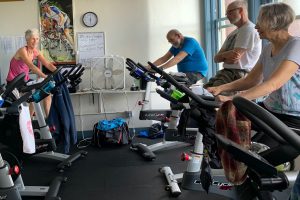 YMCA Associate Executive Director Tony Clark is happy about the program. "It's great that Tammy saw the need," he says, "and wanted to expand our services to reach out into the community to serve people who had not previously been served."
Diane Parker likes the Rock Steady Boxing class even more than the spin class because, she says, she has more control over how she executes the movements. She also appreciates the vocal exercises during class. Many people with Parkinson's lose part of their voice and vocalizing in the class is extremely important to combat that loss. Class participants shout out countdowns and answers to questions, which also helps create a vibrant, fun atmosphere.
Parker notes that Parkinson's symptoms are very individual and show up in people in a wide variety of ways. "If you meet one person with Parkinson's, you've met one person with Parkinson's," she says with a laugh. "Everyone is different."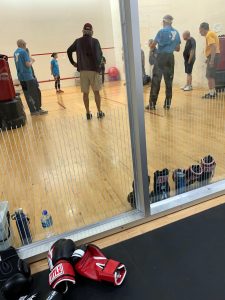 Sarah Lane facilitates the boxing class and explains that there are hundreds of Rock Steady Boxing classes serving thousands of people around the world. The Bellingham Y's class started in early April 2019 with a generous grant from the Bellingham Central Lions Club.
"It's a multifaceted class that works on speed, agility, strength and balance," Lane says. The class warms up with small motor movements to help people connect with their body and expands to large movements that include non-contact punching and footwork. "The opportunity to use explosive force to fight back against a chronic disease is very powerful."
Jamie Starks is former amateur boxer and the maintenance director of the Whatcom Family Y. He helps coach the Rock Steady class to teach proper boxing form and to provide encouragement. Starks provides perspective on the benefits of the class. "See that guy?" he asks. "When he started coming, he was using a walker. Look at him now!" The gentleman he referred to was indeed bouncing on his toes and throwing left and right upper cuts with fervor.
Tracy Diehl, YMCA development director, teaches the pedaling classes, and explains that reaching people with Parkinson's in the early stages—often by a referral from their doctor—shows great benefit. She then stresses that those at any stage of the disease can lessen their symptoms and lead a happier, healthier life by participating in the programs. Symptoms can be reduced 35 to 40% by riding a bike for 40 minutes at 80 to 90 revolutions per minute.
"Exercising together is not just good for managing physical symptoms but also for the establishment of community," Diehl says. The payoff for many class members is immediate, and they come regularly to classes because of the difference exercising makes. While not a cure, it is changing the lives of participants. One participant threw out his golf clubs when he was diagnosed. Now he golfs once a week…with new clubs.
"We always feel good—feel accomplished—after a class," says participant Suzanne Whalen. "We encourage each other." (Whalen also recommends the new documentary about Linda Ronstadt, who has Parkinson's.)
The physical benefits are good, but equally important are those provided by the laughter, the singing of songs from the Beatles to Johnny Cash, the joking, and the sharing of medical information. These classes create community and go a long way toward fighting social isolation. There are potlucks, and outings and even a San Juan Cruise for the class.
Rick, one of the spin class stalwarts, advised not to say "Oh, I'm so sorry" when you meet someone with Parkinson's. "Ask questions," says Rick, "but don't marginalize us. We are living, not dying."
If you'd like to donate your support or learn more, please call Tracy Diehl at 360-255-0445, email her at tdiehl@whatcomymca.org or email Sarah Lane at slane@whatcomymca.org.