Submitted by: Whatcom Transportation Authority
What is a queue jump lane?
A queue jump lane is a traffic control device that gives special preference to certain vehicles at intersections. To help us stay on time, the City of Bellingham installed transit queue jump lanes westbound on Lakeway at Lincoln and on Alabama at James Street.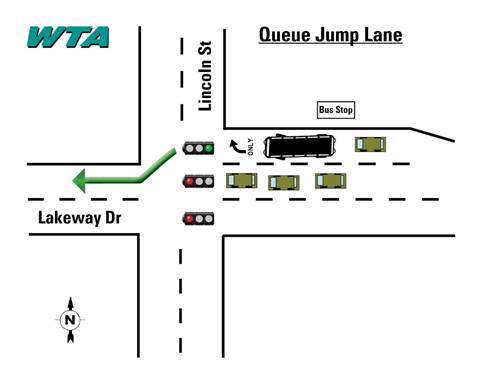 Here's how it works:
At the intersections with queue jump lanes, there's a Turn Only Lane on the right.  Though it's Turn Only for cars, WTA buses are allowed to go straight.  A specially timed signal here can detect the presence of the bus and will give it a green light BEFORE the lights turn green for the other lanes. This head start allows our bus to "jump the queue" and reach the travel lanes before the cars waiting at the light.
Featured photo by Gabriel Boone