Located on North Star Road in Ferndale, Petals & Blooms is a go-to destination for all things decoration. While the in-barn store specializes in home décor goods, many shoppers also stop in for lovely wedding supply products.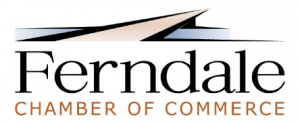 Everything at Petals & Blooms has a farmhouse-themed feel, and that's no accident. "We wanted to provide somewhere people could buy things they see and love on [popular tv shows]," says owner and founder Kathy McGuire.
McGuire started as a florist—which is what inspired the shop's name. With the popular Pike Place Market bouquets in mind, McGuire wanted to provide that level of quality here in Whatcom County. She started selling out of a refurbished trailer on roadsides and at trade shows and soon convinced her daughter, Erin, to join her. When her son got married, her new daughter-in-law, Bre, also joined the business.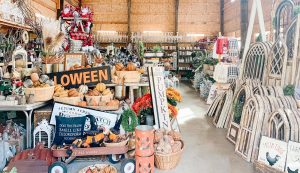 You'll find home décor inspiration left and right at Petals & Blooms, from throw pillows to vintage bicycles. Whether you're working with a blank canvas or just looking to make a few small updates, McGuire and her team have a keen eye for design and are happy to help. They're kind, knowledgeable, and friendly, and are ready to answer any question thrown their way.
McGuire buys a lot of her products in bulk, helping keep the cost down and the supply high. While this is great for individual sales, it's even better for brides. Petals & Blooms offers an array of options for wedding decor, with candle holders, church windows, lanterns, and much more to add a serious romantic vibe to any space.
On occasion, they've been known to host special wedding shopping events where you can find discounts on items ideal for weddings, like cake stands or vases.
McGuire's daughter, Erin, recently got married at Barnstar in Ferndale to an old high school friend, Tory Ebbesen. The two planned the wedding for a year and a half, with beautiful results. The newly married Erin Ebbesen used several Petals & Blooms' pieces in her wedding.
Beautiful white hobnail jars, which come in a variety of sizes, were used as vases to hold white carnations. "I wanted the wedding to be mostly flowers, so we didn't use as much tchotchke stuff," Ebbesen says.
Cement urns may seem unassuming on the shelf, but Erin proved they can be beautifully transformed. She used the smaller urns as centerpieces on all the tables at the reception and the larger sizes as a backdrop at the altar.
Mismatched lanterns throughout the wedding gave a vintage, shabby-chic vibe to the space. With a mix of colors and finishes, the glowing light added romance and ambiance. Erin lined the aisle with lanterns.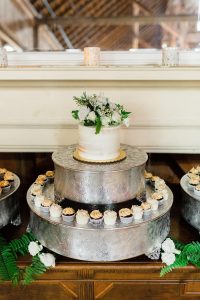 Erin used metal cake stands to showcase their gorgeous wedding cake (and cupcakes!), adding an elegant vibe. The strong silver contrasted with the etched swirly, floral design to perfectly marry the industrial tone with the floral theme.
Vintage, repurposed church windows are nothing short of romantic and Erin used one on the table behind the guest book. With the glass removed, these frames provide a little extra texture and design to a space.
Erin's now-sister-in-law used her Cricut cutting machine to add text to the chalkboards Petals & Blooms sells. The flower girl walked down the aisle carrying one that reads, "Here comes your bride."
Petals & Blooms knows how to welcome every season. The fall collection is cute, cozy, and charming, with lots of flannel prints, distressed orange metals, and pumpkins of all shapes, sizes, and textures.
They then transform the barn for the holiday season. The peek I was given included lots of friendly-looking gnomes, giant jingle bells, and tiny bottle-brush Christmas trees.
This small, family-run business is hitting big and hitting all the right notes. It's a lovely place to not only shop for holiday and home décor, but also to pick up gifts, fresh flowers, and give the barn kitties (Simba and Captain America, named by Bre's kids) a pet or two. Stay up to date with Petals & Blooms with their Facebook and Instagram pages, and be on the lookout for a new website coming soon.