You know that feeling at a parade or concert when the drums get into your chest? That's an ancient and universal connection between humans and sound. It produces all sorts of powerful emotions. Vox Antiqua makes just that sort of music in their acapella performances throughout Whatcom County.

Thom Barthelmess, a member of Vox Antiqua, describes the group as a small chamber choir. "We perform a few very special programs every year, something between a concert and a service, with atmospheric early music, moments of stillness and contemplation, and no applause."
Jenny Brice, a founding member and Silver Beach resident, started the group in 2014 with her high school and college friend Suzanne Stratford. The group varies in number, generally around ten. Current members include: Matt Miller, Brian Rapp, Jill Clark, Jenny Brice, Janet Malley, Evan Richie, Peter Venable, Walt Burkett and Thom Barthelmess.
"Our repertoire is largely centered in early music, some as early as 6th century, but we perform more recent works which fit into our vision, as well," Brice says. "We concentrate on early music because of the quality of its sound and feel, which we find to be healing and peaceful."
According to Brice Vox Antiqua is devoted to creating fine musical experiences that bring peace, joy and reflection to the members and their audience. "We perform across Whatcom County and frequently assign any proceeds from donations at the event to local non-profits and faith-based organizations to bring our community together," she says. And although the concerts are free, donations have gone to organizations such as The Ground Floor and the Bellingham Diaper Bank, which are ministries of the First Congregational United Church of Christ, and an upcoming concert will benefit Whatcom Literacy Council.
Most recently, Vox Antiqua performed at City Hall to commemorate the 20th anniversary of the Olympic Pipeline explosion in Whatcom Falls Park that killed three boys. The group also has an annual performance for Advent with the "O Antiphons" concert on December 23 at the First Congregational Church.
When asked which locations have the best acoustical qualities, Brice's answer is quick and unequivocal: "The stairwell at Fairhaven College," she says with a laugh. Assumption Church, Sacred Heart Church and the church on Lummi Island all scored acoustical points, as well. After their June performance at City Hall, it became one of her favorite places to sing. She's hoping the group will have other opportunities to sing there.
Some of the composers Vox Antiqua performs are Ola Gjelo, Edward Elgar and Josquin de Prez, to name a few. All of these composers have works available at the Bellingham Public Library. Brice also recommends Seattle Pro Musica, Bellingham Chamber Chorale and Choir of the Salish Sea. She also likes the Jazz Project concerts that feature her brother, Jeff Busch, here in Bellingham, and the Bellingham Symphony Orchestra (previously the Whatcom Symphony Orchestra). Brice cites the movie 'The Singing Revolution' about the power of using peaceful voices to oppose the Russian Revolution. "At this time in our world, coming together to create music raises us all up," she says.
Singing is powerful. "We sing for ourselves and to offer healing and peace to others," says Brice. The group practices about two hours a week, and once a month share a meal before rehearsal. Brice says that the friendship and power of coming together in the here and now allow the singers to create something special.
Unusual for a vocal choir, Vox Antiqua doesn't have an official leader and is a group collaboration. All the members come from different walks of life, and step in with their different skill sets as needed, including collaboration with other choral groups. There are librarians and computer techs, WWU professors, Whatcom Land Trust administrators, and a director of paratransit services. All bring strong musicianship to the ensemble. "Our only real requirement is the ability to sight-read music," said Brice, "and we are currently looking for sopranos."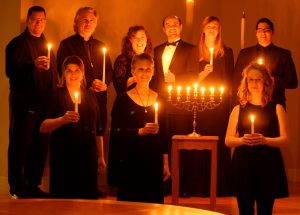 Brice is an occupational therapist with Bellingham Public Schools and finds that music especially resonates in her work with autistic children. She sings with nonverbal children, and it doesn't matter which song it is, but a current favorite is "Down by the Bay."
"The simple sound of a tuning fork is helpful for focus and mindfulness, too," she says. Brice highlights the power of music to help us learn and remember. "Fifty Nifty United States," by Ray Charles, which she learned in fourth grade, has served her and her daughters well.
Raina Clark, a firefighter and literacy tutor in Whatcom County, attended the November 11th concert honoring the Feast Day of St. Martin of Tours who was revered for his acts of humble generosity. The concert benefited The Ground Floor, a day shelter for youth experiencing homelessness. "The performance was tender, beautiful and deliciously calming," says Clark. "Even the silence between each piece was powerful. Go sit with Vox Antiqua. It is a wonderful gift to give your anxious self."