Since its March opening, the new commercial passenger terminal at Everett's Paine Field has given Western Washington flyers a convenient option for getting out of town.
Even if you've already traveled through the new terminal, you probably didn't realize that Bellingham's Signs Plus created the signs that guide you through it, from the parking lot to the boarding gate.
Paine Field Passenger Terminal is fully owned and operated by Propeller Airports, a private-public airport development company led by Chief Executive Officer Brett Smith. The two-gate terminal services three aircraft at a time, accounting for over 20 daily flights to nine western cities for carriers Alaska and United Airlines.
Privately owned commercial terminals, Smith explains, are extremely rare in the United States. In Europe, however, the continent's biggest airports—Heathrow, Charles de Gaulle, and Frankfurt—all belong to private enterprise.
"There's no reason, in my view, to use taxpayer dollars that can go towards education, healthcare, and other causes, to build a terminal that you can't directly get paid back for, because of the way FAA rules work," Smith says.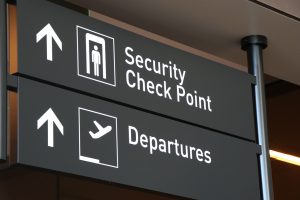 Construction of the new $40 million terminal took about nine months, featured an intense amount of planning, and had its opening delayed a full month by the federal government shutdown. But now that it's up and running, it's quickly garnered a reputation as one of the nicest and most efficient terminals in the entire country.
"It's all about bringing civility back to the airport experience," Smith says. "It's not your typical airport."
Here's Your Sign
What is an airport terminal, of course, without proper signage telling you where to go and how to get there?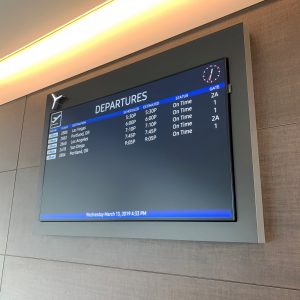 Signs Plus, which completed previous signage work at the Bellingham International Airport, was contacted by the terminal's lead contractors about a year before Paine Field construction began. After budgeting was completed and the building erected, Signs Plus crews spent roughly four months designing and installing around 300 pieces of signage. From tiny placards to large wayfinding signs, both inside and outside the terminal, Signs Plus did it all.
"They exceeded my expectations," Smith says of the company's work. "They're one of the only vendors I didn't question. Having contractors like Signs Plus who knew what they were doing and didn't have to be micro-managed made a world of difference."
The world-class quality work of Signs Plus adds to the terminal's efficiency, which Smith says aims to get passengers from their plane to their car within 15 minutes. Good wayfinding signage, whether at an airport or a mall, carries the same goal, says Signs Plus owner Jim Sutterfield: help people get from A to B effectively, but without cluttering the building.
Signs Plus not only accomplished that goal, but also added great stylistic flourishes, such as including Propeller Airport's metal propeller logo on informational LCD screens throughout the terminal.
The Friendly Skies
Overall, Paine Field Passenger Terminal offers a relaxed, lounge-like environment that's the opposite of what you find at most larger terminals.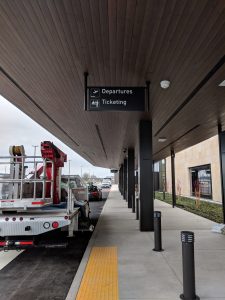 The check-in area features a stone wall with a giant digital departures screen, designed to mimic the old-fashioned split-flap boards of places like New York City's Grand Central Station. The building's interior is clad in earth tones and features fireplaces, exposed wood and floor-to-ceiling windows with views of the Olympic Mountains. Even the jet gates connecting planes to the terminal are made with glass.
"It's a much higher-end experience," says Smith. "I wanted to make sure that everything flowed well and matched the other treatments that are in the building."
The main waiting area features several cases filled with historic items related to Paine Field, which was named (in case you're wondering) after Topliff Paine, an Army Air Corps and Air Mail Service pilot who flew during the 1910s and early 1920s. A statue of him stands at the terminal's pick-up and drop-off area.
The terminal also features locally sourced food and beverage offerings. A full-service bar, with food prepared on-site, offers waiter service through the terminal. Fresh flowers, looked after by Smith himself, are set on every table. Morning newspapers are complimentary. Electrical outlets and USB ports are available at every seat. And there's also valet parking.
Sutterfield says the last time his family flew out of the terminal, Smith himself was at the gate greeting passengers.
"To me, this is like a hotel," Smith says. "I'm like one of the maître d' here, on the concierge staff. I want our passengers to have a great experience, so I end up getting wrapped up in what goes on here."
Overall, the work of Signs Plus has helped make the Paine Field Passenger Terminal a finely tuned machine that Smith is incredibly proud of.
"This airport has created jobs and opportunity, and added so much convenience to so many people's lives," Smith says. "To me, that's the most fulfilling part of this."
Sponsored