When Shawn Serdahl was 9, he built a birdhouse out of scrap wood with his uncle, who was a carpenter. The childhood project sparked a lifelong passion for creating with his hands, leading to a career as a professional craftsperson. It's why—decades later—the teak birdhouse sits on the back porch of his home.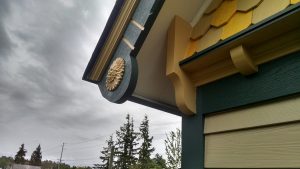 As a member-owner of A-1 Builders and Adaptations Design Studio, Serdahl and other A-1 craftspeople are passionate about showcasing their skills. Doing any job, whether it's fine cabinetry or putting insulation into a wall, involves craft. And when a job is done right, the result is satisfaction for both craftsperson and customer.
"I still talk about projects I did 10 years ago," Serdahl says. "There was a cabinet install—I remember it like it was yesterday, because it was so much fun. But that same job, I was in the attic for eight hours, sucking out insulation full of rat droppings. It was the same house, but I'd forgotten that part of it. I remember the stuff that was really fun."
Making a Craftsperson
Serdahl, along with fellow A-1 Builders member-owner Justus Peterson and carpenter Chris Wigen, all have decades of experience as professional craftspeople. And they all say that passion and penchant for carpentry work is what defines their vocation.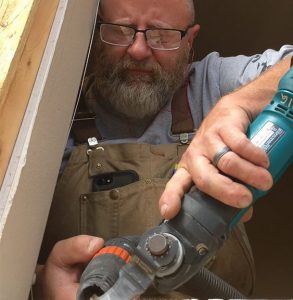 "There's the 'finish' carpenter, and then there's the 'finish as fast as you can' carpenter," says Peterson. "You want to be the 'finish' carpenter. You create with passion and care and attention to detail."
Wigen concurs.
"If we don't care about doing our stuff right, you'll notice," he says. "We have to focus on little things to make the big picture perfect."
A craftsperson is someone who imparts a sense of artistry in their work and can problem-solve efficiently and creatively. Serdahl calls his profession a "balance of head and heart." The fact that all three of them commonly scrutinize buildings they're not even working on, they add jokingly, makes it a kind of sickness.
"It's exceptionally rewarding," says Wigen, who made a career transition from sales work at age 33 and never looked back. "This is the only work I've ever done that doesn't feel like work."
Serdahl also says a true craftsperson—especially if in a project manager's role—should have a broad understanding of the buildings they work on.
"A carpenter isn't just someone who frames walls and builds with wood," he says. "A really good craftsperson has a great understanding of drywall, insulation, tile, electrical, plumbing, especially when you do what we do in remodeling."
The work of the craftsperson, of course, isn't without risk. They are always putting their health and lives on the line, and from scaffolds to power tools, there are plenty of dangers. The job also takes its toll, from cut fingers to hernias and various pains. Peterson says he was once told a craftsperson's most important tools are their boots and their bed.
"You've got to be able to be on your feet all day, and you need a good night's sleep," he says.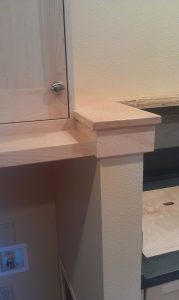 Creating highly intricate pieces of woodwork for a client's home is a privilege the carpenters seize upon at every chance, especially since maximum affordability commonly outweighs a desire for ornate trim work these days.
"There's not a lot of additional fluff that goes into the inside of buildings anymore," Serdahl says. "In new construction, everything becomes so modern and simple."
One place where the craft is still commonly valued, though, is in people's kitchens. It is, the group agrees, the "heart of the home." The best client reactions, they add, often come from seeing their new kitchens for the first time.
"It's where a lot of love happens," Wigen says. "And I think all the energy you pour into your work there doesn't leave that space. I think it generates good karma."
The Payoff
While cost-effective simplicity often dominates modern construction, remodeling old Victorian-style homes still offers craftspeople a chance to showcase their skills. Serdahl says that A-1 Builders once worked on a Victorian home that required 87 baseboard pieces in a single bathroom.
Fencing can also give carpenters the chance to take their time. Wigen was once hired to create beautiful bamboo and cedar fencing for a home. He told his apprentice to take it in stride, using Japanese pull saws to create the fence in the meditative, contemplative way it would have been made long ago.
Of course, not everyone has the time or money to see something built so thoughtfully. So craftspeople like Wigen often channel their creative energy into their own projects. Wigen has crafted wooden art pieces he gives away, as well as handmade longboards that he sells.
Serdahl, Wigen and Peterson are also passing along a passion for building to their offspring. Wigen's son, Schuyler, apprenticed under his father and is now also an A-1 Builders employee. For the younger children of Peterson and Serdahl, simple building projects or help with home maintenance can stoke interest and accomplishment as they get older.
Whether the job is simple or complex, A-1 Builders carpenters give their all to make their clients' homes better. All three say relationships they've developed with some clients have gone beyond just simply doing a good job; they realize they've played a role in a person's life.
Peterson once worked on the home of a woman with stage 4 cancer. He realized she was entrusting him with preparing the house for her children so that when she died, their burden would be slightly eased.
"For me, that really put in perspective how important what we're doing really is," he says.
While the work the carpenters at A-1 Builders do is with their hands, Peterson says being a craftsperson is something everyone should aspire to, regardless of what they do.
"It doesn't matter the industry that you're in," he says. "You want to have passion and care about what you're doing. Whatever you do professionally deserves that."
Sponsored