Gib Sharpe is living his dream.
The Spokane Valley-based cannabis farmer is six months into bringing his high-end cannabis brand, Playa Grande Cannabis Company, to retail stores across Washington state. This includes right here in Bellingham, where his younger brother, Quinn, owns Satori Bellingham.
Gib, 43, has deep roots in the cannabis industry, initially running a hydroponic retail store that helped numerous I-502-licensed cannabis operations set up their Eastern Washington farms. The store is still doing well, and provides lighting, nutrient and soil supplies to commercial farms.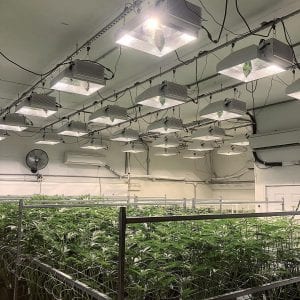 Playa Grande began when Gib realized it was easier to sell hydroponic equipment to farmers by showing them, instead of telling them, what that equipment was capable of producing. Gib began a Tier 1 grow operation and created a kind of 'cannabis showroom.' This "grower's grow," as he calls it, helps highlight the newest lighting technology, drip systems and high-quality nutrients, while simultaneously producing premium-grade marijuana to sell on the retail market. Gib says Playa Grande's grow setup lacks for nothing, and the result is high-end flowers that are nothing short of spectacular.
"It's really a dream setup for us," he says. "We shot for the moon. We did everything the absolute best way we knew how to do it."
The small output (half the capacity of a full-scale Tier 1 grow) and staff size (five employees, including Gib) means Playa Grande can provide a personal touch to each and every plant they grow, giving more attention to detail than larger farms.
Another distinction is the nutrients they use. Playa Grande relies on pharmaceutical-grade nutrient feed, containing the same high purity levels used to create various medicines. The feed is free of heavy metals, and leads to quicker nutrient uptake by plants. Overall, decisions on the farm are guided solely on what will produce the highest quality cannabis.
"It's an experiment of how far we can take it," he says, "and how we can really bring out everything that this genetic has to offer."
Playa Grande is also in a very comfortable position, Gib says. They don't have to sell a large, pre-determined quantity each month. And they choose their retailers carefully, ensuring they have the same levels of integrity to build a relationship on.
"It's a really nice way to do business," Gib says. "We're not just trying to peddle our product. We're working with people we choose to work with. And I think it translates well."
Those working relationships include his brother, Quinn. Getting to work in the same industry with him has been very special.
"I get to see my brother do well for himself and work hard in an industry that he's passionate about," Gib says. "I'm proud of him and what he's accomplished, and what he's going to accomplish. We're both living the same dream."
Part of that dream – found on a Costa Rican shoreline – is what inspired Playa Grande's name. The brand refers to the Playa Grande beach, visible from a cliffside property Sharpe shares with his brother and their families. It's a special spot, Gib says, bordered by national land and no neighbors. The beach is only publicly accessible by a long, tide-timed walk along the shore, or privately from their property. In short: it's paradise.
"The name is to remind me of where I'm working to get to," Gib says, "to enjoy more of my time with my family down on Playa Grande beach."
For now, Gib says he's striking a good balance between family and work after a busy first year of establishing the farm. He has a full plate between the hydroponic and farming businesses, and has no major expansion plans in the works. Playa Grande does plan to add a rosin press, however, and will add extracts to their product line in the coming months.
In the meantime, he'll look forward to spending more weekends with his wife and two children, and to spending his weekdays producing some of the state's finest cannabis.
For more information on Playa Grande, please visit their website and Facebook page.
Sponsored