Originally from Spokane, Washington, Satori Bellingham owner Quinn Sharpe has lived on the western side of the state longer than on the eastern side, and is happy to call Bellingham home. "Bellingham really is a special place to live," said Sharpe. "Me and my wife went to college at Western Washington University, and she went to medical school down in Seattle. That's where I started my businesses, but we were always trying to figure out a way to get back to Bellingham."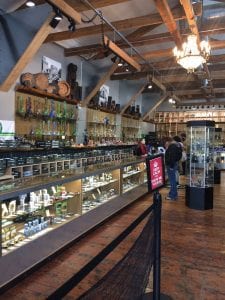 Sharpe had partnered with Justin Wilson, Founder and CEO of Piece of Mind, running a collection of 11 shops across the Northwest and beyond. Sharpe and his wife, Emily, moved back to Bellingham about 10 years ago for her career. He continued to commute to Seattle for business until the opportunity came to hop into the recreational marijuana industry.
"Making the leap from Piece of Mind to Satori was challenging but a natural progression in our business model," said Sharpe. "We have a love for functional glass art and the artists that create elaborate pipes and water pipes. This is reflected in Satori Bellingham, as we have a wonderful collection of amazing pieces on display and for sale."
There are currently five Satori shops across the state of Washington. Sharpe has ownership of one in Bellingham and one in Port Angeles. The process of opening recreational marijuana shops was a bit bumpy, but Sharpe has seen a great deal of progress in this young industry.
"We're just happy to be here," he said. "The fact that it's finally here and legal in Washington, and that I get to have a seat at the table, makes me really excited for me and my family and for the nation. I'm really proud of Washington for actually being at the forefront of this change. We should be proud of that."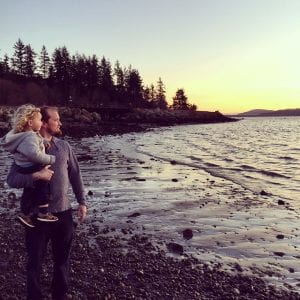 Though cannabis has played a large cultural and medical role in society for a very long time, our current recreational marijuana system is built on the successes of the medical industry, first legalized in 1998.
"Satori prides itself on being a very medically-centric cannabis boutique with five medical consultants on staff," Sharpe said. "We are at the tip of the iceberg in research on cannabis and all the benefits it can provide, and we see it every day in our store with patients wanting to rid themselves of painkillers and patients dealing with PTSD, insomnia, fibromyalgia and so on."
When Mike Hiestand, Director and Co-founder of the Center for Mindful Use (CMU), approached him about creating a safe, community-oriented space to talk and learn about all things cannabis, Sharpe jumped at the opportunity. CMU holds monthly cannabis Alliance meeting webcasts and hosts events like dance classes, yoga, Zumba, hula hooping, joint rolling, drum circles, cannabis documentary movie showings, guest speakers on cannabis-related topics and more.
"This has been such a cool place to learn about the social, medical, spiritual and, yes, recreational aspects of cannabis, as well as creating a space for cannabis-friendly activities," said Sharpe. "The building that we operate in was once a school called Anything Grows, so it's fitting that we're creating an education and activity center for cannabis enthusiasts. Satori can be a safe place for education."
Satori is the only recreational marijuana store in downtown Bellingham, and they pride themselves on being a positive presence there. "This was a pretty rundown pocket of downtown Bellingham and we were able to bring vitality to this corner," Sharpe said. "We're super excited to make positive change in downtown and we want to beautify it in any way we can."
Sharpe has seen the constructive impact this industry is having on the community, both in the job market and in an overall paradigm shift with regard to cannabis acceptance. "There are 10,000 people statewide that are employed in the cannabis industry and roughly 400 of those live and work in Whatcom County," said Sharpe. "These are real people with families and kids who contribute to our community."
"On a social level, I believe there is a general acceptance that is happening," he continued. "People who were once not so sure are open to the idea that cannabis and the families that are involved aren't so bad."
"Cannabis isn't for everyone," Sharpe said, "but the prohibition has ended and I'm proud to be part of a community that embraces this positive change. It's okay for people to not like marijuana, but we all need to come together to figure out the best way to move forward."
Satori Bellingham and the The Center for Mindful Use are located at 100 E Maple Street in Downtown Bellingham. Whether you are a veteran cannabis connoisseur, are just getting started or simply want to learn more, Satori's experienced and friendly staff is excited to help meet your needs.
Sponsored