November saw the addition of many new and interesting stories to the pages of WhatcomTalk. Each month we like to take a look back at what most resonated with our community. Here are some of WhatcomTalk's most read stories in November:
Paulina Antczak, a Realtor with Brandon Nelson Partners, was recently featured on an episode of HGTV's Beach Hunters. All of Whatcom County was excited by her success and the opportunity to showcase our beautiful area. Read the story of how this local personality came from a childhood in Poland to a thriving career here in Bellingham.
Greg and Jeannett Penner, owners of Capstone Physical Therapy, have taken a passion for patients and created a movement of care that has grown to five locations in Whatcom County. In May of 2016, Greg and Jeannett started Kornerstone Kids, a non-profit therapy center designed to help children with special health care needs. In less than one year the team more than doubled in size. In the first three quarters of 2017, the Kornerstone therapy team provided 6,939 appointments for children with special health care needs.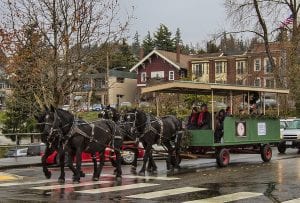 Lights twinkle on the trees at the Fairhaven Village Green. Horse-drawn covered wagon rides amble along the streets. Music drifts through Historic Fairhaven. The holiday season is once again upon us and Fairhaven Winterfest is in full swing! Let's celebrate!
For the beginning of the school year, the Arts and Humanities department at Whatcom Community College created shirts for all of their faculty that proudly proclaimed, "We're all in this together." Inspired by recent events and the desire for unity, a few key staff members got together to organize the project. It is an inspiration for students and all of Whatcom County!
WhatcomTalk is a digital media company sharing positive stories about people, places and businesses in Whatcom County. WhatcomTalk offers content marketing and online options to advertise across our community social network in Bellingham, Lynden, Ferndale and beyond. Advertise with WhatcomTalk to reach your target market, grow your brand, and measure results.