The East Whatcom Regional Resource Center is nestled in the heavily-forested foothills of the county's designated Columbia Valley Growth Area. The region is remote, diverse and dotted with various little pocket communities, many of which have need for social services. EWRRC operates under the larger private non-profit arm and well-known community service agency Opportunity Council (OppCo) which has been assisting the economically disadvantaged since 1965.
EWRRC's official address is in Maple Falls. The impressive LEED Certified Building built in 2011 is a bright, spacious, multi-use structure. The property hosts a bus stop, library book drop, community garden and fields to play in. Twice a month, a mobile food bank comes to the site.
The lobby features a clothing exchange table, a well-stocked Free Little Library, Wi-Fi, public computers and a printer, a phone, community bulletin board including area job opportunities, and tons of brochures. During office hours, three staff members are available to answer questions and provide resources. EWRRC houses the well known and award winning Head Start pre-school program. When 11 area families were without food and electricity last winter, the facility was used as a Red Cross disaster center.
Jessica Bee's role as coordinator is an integral part of EWRRC. She ensures that the building and services align with the mission of OppCo and are relevant to East Whatcom communities. It's easy to tell from her huge smile and genuinely caring attitude that this woman loves her job.
Prior to her work at the center, Jessica spent four years helping homeless and runaway youth in Bellingham. During that time she imagined her perfect job, a position that would connect her with people in her own neighborhood and allow her to be a caring conduit to community resources. Landing her coordinator position at EWRRC in 2013 was a dream come true.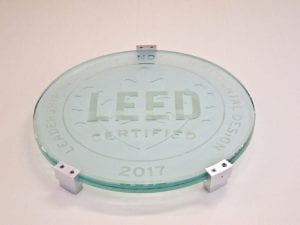 She is originally from Massachusetts and moved here from Arizona 13 years ago. She and her husband have five children, two dogs, four cats and five chickens. They found the best housing options out in the country. The children are home schooled and the house is filled with books. Jessica loves to read, dance, sing and be silly with family and friends. She is known for seeing projects through to completion.
Jessica shared with me many stories about her work. One was about the exchange table at EWRRC, which is a "take some, leave some" program that accepts gently-used items like clothing and household items. One day she stocked the table with a few donated warm jackets. That particular day got hectic, but when she left for home, she saw that the jackets had been taken. Evenings had gotten chilly, but later that weekend the temperatures plummeted. As she drove along the street, she saw a family happily walking through the neighborhood, and noted that one of the children was wearing a winter coat she'd placed on the table.
Jessica said, "This is what true warmth feels like – knowing that you do your very best and seeing the tangible effects of your work."
Some time ago a neighbor came to the center. She was newly retired and energetic, and soon became a valued volunteer. "One day she had an idea to make homemade fleece hats for the 36 students of the Head Start program. It became my honor to facilitate a connection between a caring individual and a group in need. This has since become an annual effort. The smiles on the faces of these children are testament to the growing sense of community, belonging and connection that happens at EWRRC," Jessica added.
I connected with Jessica during my own search for housing. I had reached a point of despair when a friend said perhaps Jessica could be a resource. He had volunteered with Jessica and her kids on a project helping an Eagle Scout build a path and picnic table for the Nooksack Salmon Enhancement Association. Thanks to my friend and Jessica, I did eventually find an apartment. Her personal assistance and support meant everything to me.
Jessica says she has a placard in her home that reads, "Bloom Where You Are Planted." She feels incredibly lucky that she can do exactly that while working for EWRRC. "The people here are a wonder and a gift. They are the heart of the community. Caring, doing and being – they inspire me every day."
East Whatcom Regional Resource Center
Jessica Bee – Coordinator
8251 Kendall Road
Maple Falls, WA
360-599-3944
Open Monday – Friday, 8:30 a.m. – 4:30 p.m.
Visit them on Facebook or connect via email.