Life is unpredictable. At the drop of a hat, everything you know can change.
An unexpected, tragic loss happened for one Whatcom County man's mother who learned her son had died. She lived in Florida and heard the terrible news just before Hurricane Irma hit. The mother was beside herself because airports and roads were closed, and she could not travel to Washington state to take care of her son's affairs.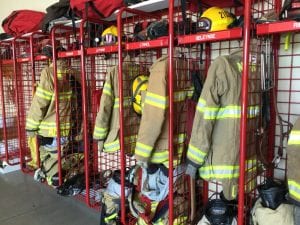 "Her son was very well-loved," says Kendra Cristelli, executive director of Support Officer Community Crisis Care. His friends helped us clean out his apartment, and we found placement for his cats. We helped sell his car and did everything his mother would have done had she been able to come."
Tragic incidents like vehicular fatalities, homicides, suicides, and sudden deaths happen every day. When families are in crisis, the organization is here to help in every possible way.
Support Officers began in 1982. "The fire chief at the time and a local pastor got together and realized the need," says Cristelli.
When first responders are called out to fatality situations, they have investigations to run and work to complete. Then they get called out to the next emergency. Unfortunately, more often than not, they don't have time to help family members beyond the scope of their emergency duties.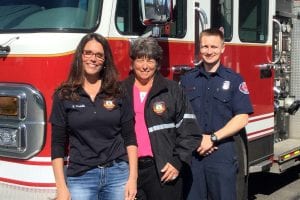 The local fire chief didn't feel right about leaving grieving families behind. He and the pastor started the Support Officer program to help. "Back then there was a group of pastors who would carry a pager. They would be contacted any time there was a death outside of a care facility," says Cristelli.
Today, out of 22 Support Officers, many still represent the clergy. Others, some who have experienced tragedy themselves, volunteer with the organization as a way to give back.
Teresa Flinn, a commercial banking officer at the Peoples Bank Barkley Financial Center, is one such volunteer. She found out about the organization the way most people do, amid a crisis. Flinn lost a dear friend who died unexpectedly during a hike. "The Support Officer on site contacted my husband and me and was available to help us and the family pull it all together," she says.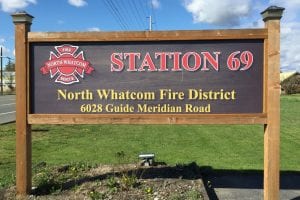 "Peoples Bank helps support the organization, not only through donations, but if necessary, they allow me to leave during the work day to assist those in need," says Flinn. "It's very gracious of the bank to support this organization, and all of the other important volunteer work in our local community."
Emergency response is only the tip of the iceberg for Support Officer volunteers who provide information, emotional support, resources, and anything else the family needs. The organization helps with everything from counselor referrals and rides to and from the airport, to helping with funeral arrangements and expenses. They create a support system around families and spouses. If loved ones are involved in a homicide or vehicular manslaughter, a Support Officer cross-trained as a crime victim advocate helps families through the entire court process, which sometimes can take years.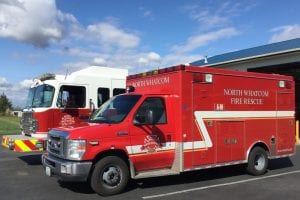 "We help strangers through the most difficult time in their lives," says Cristelli.
It takes a special person to help on a regular basis during times of crisis and death. "There's a certain compartment where you tuck stuff away back there," says Flinn, who admits she had a difficult time at first not taking this work home with her.
Cristelli agrees. "The longer I do this, the harder it is. It's definitely cumulative and it comes at a price," says Cristelli, who has worked as a director for the organization for fifteen years. "It's hard, it's heavy, and there are times when I cry with them."
But overall, the Support Officers feel it's worth the pain and personal heartache they endure because of the help they bring families.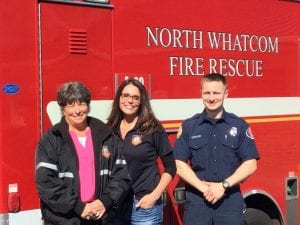 "We get letters all the time from families that say, 'I don't know what I would've done without you,'" shares Cristelli. "There's a reason that we do the work that we do. It makes a difference."
Last year Support Officers responded to over 300 emergency 911 calls and drove over 8,000 miles providing thousands of hours of work. Follow-up care is at least three times that amount.
Even with contributions from People Bank and a staff of volunteers, it's hard to make ends meet with such high demand and a wide variety of expenditures. To support its programs, Support Officers Community Crisis Care has two annual public fundraisers. The annual Matt Herzog Memorial Golf Tournament will take place at the Shuksan Golf Club on September 13, 2019, while the Five Columns Greek Restaurant has generously donated space, food, and staff for a fundraising event every year for the last several years. This year's event date is to be determined.
Donations to Support Officer Community Crisis Care are welcome and can be made at www.supportofficer.org/about/donations.
Sponsored