Teaching may be one of the most under-appreciated professions. Of course kids often thank their teachers in a myriad of ways in the classroom, from hugs to sudden shows of success. But around town, teachers may not always get the recognition they deserve. This is not the case at Launching Success. In fact, the owners of Launching Success go out of their way to recognize, assist, and reward teachers—especially in May. And their efforts have been a boon to teachers throughout Whatcom County.
Jen Zimmermann, co-owner of the store with Kristen Ladiges, sat down to chat with me about the upcoming Teacher Appreciation event on May 4 from 9:30 a.m. to 11:30 a.m.
Zimmermann taught kindergarten and first grade for seven years before moving full-time into managing Launching Success. "I knew I wanted to be a teacher when I was in second grade," she says. "I loved my second grade teacher, Mrs. Welly."
Welly's kindness and teaching methods touched Zimmermann such that she knew she would one day go into teaching. And that love of teachers is still evident today in Zimmermann's efforts to promote, uplift, educate, and support teachers.
"How we serve teachers and what they're doing in the classroom is important," she says, "because I know it's serving kids, which is our main goal." And it's worth noting that Zimmermann doesn't limit the definition of teacher to school district employees as she considers homeschooling parents teachers, as well.
Zimmermann and Ladiges have owned the business for six years and both love the store for the same reason: "It just boils down to the fact that we really love children," she says. "What we provide here – whether it's for homeschoolers, teachers, or toys – it's because we love children and we want to see them succeed."
Teacher Appreciation Week happens every May and the public school system sends out reminders to help us remember to celebrate the people who help our kids learn. Likewise, Launching Success celebrates teachers at this time. This year's celebration will be on May 4th from 9:30 a.m. to 11:30 a.m. "May the 4th be with you," Zimmermann says with a laugh.
There will be raffles and giveaways, unique scratch-card discounts, snacks, treats, and more. But what people line up for every year are the famous Launching Success goody bags. The first 45 teachers to arrive at the store will receive a goody bag filled with items from their various manufacturer partners, donations from the store itself, and other things.
"It's a large goody bag," Zimmermann says. "It's probably valued at at least $50." As supplies are limited to the first 45 in line, Zimmermann says many people do come early and line up hoping to receive one of those coveted bags.
On this day, Launching Success also puts out deeply discounted items for classrooms in the parking lot, which go fast at this event, so early arrivals are also rewarded with the best selection. There will be bins of resource books for just $5.00 as well, to help teachers prep for the coming school year. This particular celebration is "not necessarily toys and that sort of thing," Zimmermann explains. "It's really just focused on those things that teachers can use."
For first-year teachers, Zimmermann recommends going slow. "Get some nameplates so you have them on your desks. Think of what you want your theme to be. Get a couple of borders – they're $3.99 – and think about what you want to put on a bulletin board."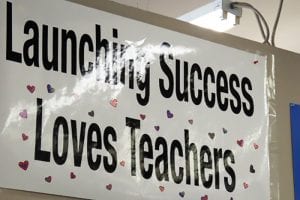 Other items she recommends for new teachers include a planning book, bell, name tags, and a teacher's pointer.
"Kids love to come up to the board and point at things. It empowers them in their learning," she says. "Just making it your own is really important."
That's really it. "Oh, and maybe a massage," Zimmermann says with a laugh.
The Launching Success teacher resource center is in the back of the store and contains all of the tools aimed at the classroom teacher. Borders for bulletin boards, plastic caddies, stickers, awards, name tags, charts, posters, decals—this section is a dream come true for the classroom enthusiast. "This room is really getting full," Zimmermann says. "We're checking in teacher products all the time now."
August is a busy month for Launching Success as teachers prepare for the impending year. In those final weeks before school starts, they often offer discounts on various things like bulletin boards or stickers and give teachers a desk-sized planning calendar for free (with any purchase), as long as they're in stock. They'll also have a smaller sized planner on hand, while supplies last.
Join Launching Success on May 4th to blow the party horns and raise a toast to teachers. "Whether it's a homeschool or classroom teacher," Zimmermann says, "we want to celebrate all of those people in education that are working hard. It's our day to be able to say 'We see you. We appreciate you! We're in this together.'"
Sponsored