If you haven't met or heard of Kevin Forrester Coleman, odds are you haven't lived in Whatcom County for long. Coleman is known for his art, volunteering, and continual positivity. He's a breath of fresh air in a world full of negative news.

"We go through more failures than successes," says Coleman. "Realizing those failures are part of our growth helps me find the silver linings in everything I do."
Last year he volunteered his time and skills, contributing 13 original artworks to nonprofit fundraisers. His donations to nonprofits and other volunteer work helped win him the prestigious title of Man of the Year from the Bellingham Regional Chamber of Commerce.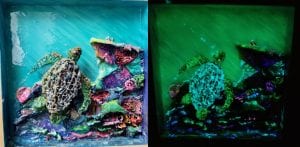 "You have the opportunity to go out and look for positive. You can easily get wrapped up in the negative, we're encouraged to do so," he says. "Those of us who don't are an anomaly. I like being an anomaly. I find the good things because life is good, if you allow it to be."
Coleman labeled his 2019 as "a year of empowerment."
"It's about giving other people the opportunities to see what good they can do," he explains. "Through positive creativity, we can create change."
Five years ago, Coleman's husband, Keith Coleman, began the Art of Local program at the Springhill Suites by Marriott, which he manages, where local artists showcase their work while raising money for art supplies to donate to local elementary schools.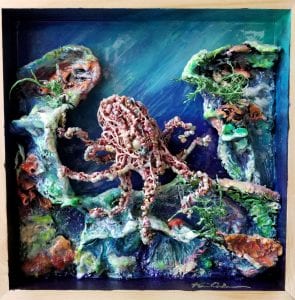 At the time, Coleman was relatively new in town. The Art of Local program allowed him the opportunity to meet and connect with other artists. "By building a network of artists, I've seen that there's so much we can do," he says.
Furthering his reach for the past three years, Coleman has worked as the community relations and business development manager for WhatcomTalk. This position opened up his network to the Whatcom County community, business owners, and leaders.
Knowing so many people in town helps him to connect other artistic and motivated people, boosting involvement for The Art of Local. Working in the community gives him the chance to use his skill for connecting the right people with nonprofit programs that are always looking for positive contributions.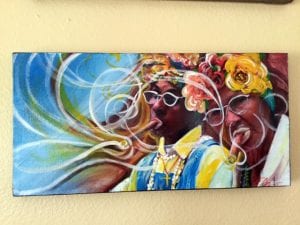 "That's how things happen. Just put people in the right places together," he says. "I've been able to encourage it."
Coleman muses, "You can stop a wave, but you can't stop a tsunami." And he has undoubtedly launched a creative tsunami.
Coleman joined up with other artists volunteering on the board of directors of Allied Arts, a nonprofit organization that's been working to bring art to the community for 40 years. They have outreach programs, hold community events, bring art to schools, teach programs, and coordinate events, including the First Friday Art Walk.
During a short career as a middle and high school art teacher, Coleman felt uninspired by the required curriculum. He felt the boundaries were too restrictive for the students. Instead, he moved on to teach inner-city children at community centers where he felt kids benefited more from his mentorship.
"It's my job to make people aware how important it is to put your hands in things and be tangibly aware of how things work," says Coleman. "Forming minds need to learn things creatively, not being held hostage to a screen."
He's continuously creating change in systematic holes and simultaneously crafting a better place to live. When Coleman found out there's no recycling program for glass containers used in the cannabis industry, he came up with a plan.
"I'm talking with a lot of cannabis owners," he says. "I'd like to form this program where'd we take the glass and recycle them in a way that gives back to the community. We can make art kits for homeless kids."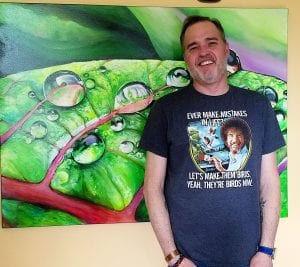 He's working to use recycled glass cannabis jars, fill them with paint, add brushes and a cup for water, and wrap them up in bags to hand out to children who can benefit from a creative outlet.
"I'm a firm believer that if you put creativity in the eyes of a child, you are able to help them cultivate it," he says. "In such horrible times when they're living through anguish, poverty, or suffering, you have the opportunity to change lives."
"I'm hopeful that we have enough momentum to create a creative tsunami to break down negativity. It's up to us every single day to find the positives," he says. "When you put your head down at night you know you've done the best you can. That's how I live my life every day."
Beautiful things are happening all around, little ripples of positivity. "There's a dog that loves me unconditionally," he says. "There's a bee pollinating my plum tree, and there's new green on the trees."
Coleman is looking for community members to help with his art for homeless children initiative with recycled containers from the cannabis industry. Send an email to him if you would like to help.