Submitted by: Barron Heating and Air Conditioning
The Pacific Northwest is a beautiful place to live. Mountains, lakes, rocky beaches, so much green—and so much rain! But have you noticed the change in the past years? It's getting warmer and warmer out earlier and earlier, which means come summer, it's downright hot. And this year is predicted to be another scorcher in Washington.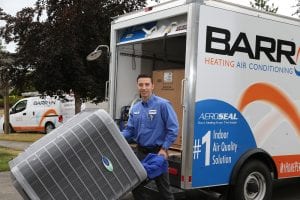 Maps released by the National Climate Prediction Center show Washington "will likely experience a warmer, drier spring and summer" with a 50 percent probability it will be warmer than usual, as reported by KING 5 News. If we're looking at a warmer and drier summer than last year, all signs point to some seriously hot and uncomfortable homes.
We've been there—the nightly scramble to open every window at sunset in an attempt to cool down your home. The perfectly orchestrated formation of fans from one end of your space to the other. Or the nightly fight with those portable systems that eat up your energy bill. You try your best, but still, the uncomfortable muggy nights keep you tossing and turning with no rest in sight. And what's more, with the heat comes wildfire smoke, making the outdoors as uncomfortable—and unhealthy—as indoors. Thinking about opening a window to get some relief? Think again.
Can you imagine your home being free from it all? Can you picture stepping into your own cool, comfortable oasis no matter what heat, smoke or humidity is going on outside? It's easier, energy efficient, and more affordable than you might think. Now is the perfect time to quit the summer charade and upgrade your home's comfort system with Barron Heating and Air Conditioning. Barron is partnering with Carrier this spring to offer a Cool Cash special—you could qualify to save up to $1,650 with rebates to add air conditioning to your home.
So next time you see the weather report looking hot, hot, hot, take a deep breath and relax. There's no need to survive summer—truly savor it this year! Relieve yourself from the stress of it all and turn to the experts at Barron to install a new air conditioner in your home. But you better hurry! Cool Cash savings won't last long.