Bellingham's Barkley Village might not initially strike you as being among the city's best spots to bring children. After all, for many years the neighborhood was more associated with 'financials' than 'fun.' But recently, the ever-growing district has become a place full of family-friendly opportunity, including numerous all-ages events in the coming months of 2019.
In diversifying itself from a mostly business-based district to an urban village of apartments, restaurants and green spaces, Barkley Village has grown into a clean, safe place for families to enjoy.
"Parents can feel confident coming to events here, knowing that their children aren't going to be in a questionable environment," says Neal Swanson, Barkley Village's vice president of leasing and marketing.
Among those events are several held specifically for children. The Barkley Village Easter Egg Hunt will take place April 21, and is free. Egg hunts will happen at 11:00 a.m. and noon, with a division for children younger than 5, and another for ages 5 to 10. In addition, there will be clowns, a glitter tattoo station, Easter Bunny photo ops, and tacos courtesy of Jalapenos taco trailer.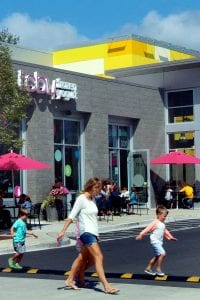 If music interests you or your children, consider taking some lawn chairs and sitting in for a free Bellingham Youth Jazz Band concert at the Barkley Gazebo, located next to Haggen. The band, made up of more than 20 local middle and high schoolers, performs jazz standards from 10:00 a.m. to 11:30 a.m. on both May 18 and July 20.
Besides music, there's the annual Safe Kids Northwest Safety Fair, which takes place each June in the Barkley Regal Cinemas parking lot. The free event features fire trucks, helicopters and other vehicles from local emergency and law enforcement organizations. Children can also learn about bike safety, poison prevention, and riding the bus.
Summer at Barkley Village features many family-friendly happenings sure to please both children and adults. Among the most popular is the August 17 Concert on the Green, featuring live music, tasty food and cold beer in a grass-covered park setting. Children 5 and under are free, and the event's liquor permit ensures parents don't have to be sequestered in a roped-off beer garden.
"It's a really nice setting for adults to bring a blanket and hang out, but they don't have to be separated from their family because they want to have a beer," Swanson says. "It creates a really nice, family-friendly atmosphere."
New to Barkley this year is the Bellingham Farmers Market, happening 3:00 p.m. to 7:00 p.m. every Wednesday from June through September. There'll be food, live music and entertainment, and a host of great vendors featuring local produce, crafts and more.
Other events include the July 21 Classic Car Show, benefiting Whatcom County veterans. More than 300 classic cars, trucks and motorcycles will fill the Barkley Village Green, with food and drink also available. There's also the September 28 Food Truck Round-Up, featuring more than two dozen vendors and live music from SpaceBand.
"We're really looking forward to this year," says Barkley Village's Megan Peterson. All these events also feature partnerships that benefit local non-profit organizations like Lydia Place and Skookum Kids, helping bring awareness to different community issues.
Of course, you don't need a specific event to take advantage of what Barkley Village can offer your family.
"It's a fun place to come," says Peterson. "You can walk the trail around the pond, hang out, and have lunch."
During the summer, Barkley Regal Cinemas shows movies – many of them family-friendly – for just a dollar on Tuesdays and Wednesdays at 10:00 a.m. A nearby playground, featuring all-natural building materials, will soon spring up between the theater and pond. The Barkley branch of the Bellingham Public Library also features a healthy amount of children's books to stir a young one's imagination.
One of Barkley's more hidden gems is a water fountain near the Gazebo. Each summer, it splashes to life and offers children a daily chance to play and cool off. In addition, newer tenants like MiX and Vitality Bowls offer healthy, alcohol-free eating options, and the recent opening of Nina's Nails and Spa ensures anyone wanting a pedicure can get one.
In addition, Barkley's YMCA Childcare Center is an excellent place for your children while you're busy. It's so excellent, in fact, that there's currently a two-year waitlist, Swanson says. In the near future, Barkley will be adding more living-centric developments: a building with family-size apartments and a dog park, among other things.
With all of these events and amenities, it's easy to see why Barkley Village is a great place to play.
Sponsored