A small studio in downtown Blaine is covered wall-to-wall in art and paint supplies. The owner, Julia Frehner, is similarly spotted with paint on her arms and glasses, matching a warm smile and bold spirit.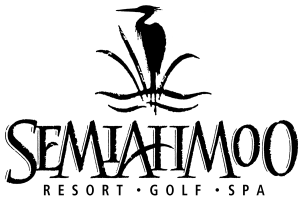 Soul Space Studio is an art studio that mixes art with healing. Frehner is all about self-expression and sharing it with others.
"Soul Space is all about a space, a safe place for people to come create, to spark their imagination," Frehner says. "It's a way of tapping into the intuitive self."
The studio offers both drop-in hours and classes (called "Play Shops") that mix journaling, art, and discussion. Classes include art journaling, dream collage and more. In collaboration with the Healthy Youth Coalition, Soul Space also offers ArtScape Teens on Tuesdays, a free drop-in for youth to come in and create.
An incredibly spiritual person, Frehner learned about intuitive art and healing after losing both legs in an accident. She uses intuitive art, a process of creating using inner awareness to make the unconscious conscious. It's often used to process emotions through art.
Her work begins with writing on blank canvas, with whatever is "moving inside" of her that needs to come out. She then layers paint and looks for images to emerge.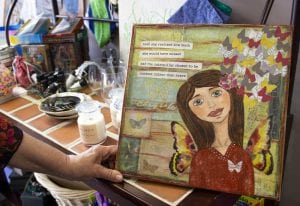 The mom of five just decided one day to up and move from southern Utah to the Pacific Northwest. She stayed with her sister for a year, then spontaneously bought a cabin in a "bog" in Ferndale.
"I woke up one day and went, 'I'm going to find a studio,'" she says. "That sounds crazy, but at the same time, it was like: today's the day I'm going to make it happen."
Those in her studio re-live experiences, painful and joyful, through art. Frehner hopes to set an example, having used art to work through her own trauma.
Heather Kirsten, Frehner's daughter, lives in Illinois and manages Soul Space's website. Kirsten grew up with art all around her, their home always stocked with art supplies.
"I'm 34 and I do not recall a time in my life when my mom wasn't doing art of some style," Kirsten says.
Though she sometimes hesitates to call herself an artist, Kirsten considers herself a creative individual, too. She started her own design company, Desert Sparkle Designs.
"My mom has always had this belief that we're all creators intuitively," Kirsten says. "I think creating this space, as much as it was for her, I think she really wanted to offer other people the opportunity to experience the process of art."
Frehner has always been an artist in some way, though her parents tried to discourage her. It's not without hardship. She sometimes worries about being judged and misunderstood. People have questioned her process, her spirituality, or whether the studio's work is "real" art.
Frehner also deals with anxiety and depression, making it hard to get up some days. Sometimes, she'll sit in her car for 20 minutes, working up the courage to leave her bog – because that's where she feels safest.
"I've got the cats and the critters outside and nobody's going to judge me in that place. Nobody's going to be staring at me or my prosthetics or my wheelchair," she says. "For me to come here, it takes a huge amount of courage. If I'm met with any confrontation, I remind myself to really breath into that, to embrace them lovingly and listen to what they have to say."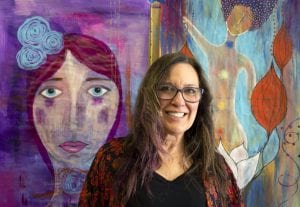 At the same time, standing firmly in her beliefs is satisfying for her.
"It's my love, to share it with others," she says. "Knowing what it has done for me and wanting others to have that same experience. There's nothing greater for me than to look over at someone creating, and they're lost in creation. That is such a beautiful thing for me to witness."
People pop into her studio all the time, she says, sometimes just to talk or hang out.
"It's not just an art studio," Kirsten says. "It's becoming more of a communal place for people to come in. People come in all the time when I'm on the phone with her, and they're not there to create or do art, but just to be a part of the community."
Soul Space Studio is both a drop-in and class-based studio. Check out their courses, play shops, or drop in and visit!