The Kang family has owned the Curry House on Main Street in Ferndale for over 12 years.

"We're farmers, we grew up with a good family, but we found that here is better," says Pam Kang. When she was 15, her family immigrated to Canada from the Punjab region of Northern India. She lived in Canada for the next 14 years.
"One person moved and sponsored the other," she says. They continued to sponsor each other until most of the family was in North America, including family friends.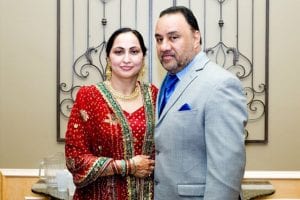 "My dad is her dad's best friend," says Saab Kang, Pam's husband who co-owns the restaurant with her and does the cooking. "Our families know each other since long ago, and they were pretty close in India," he says.
Saab and Pam have been married for almost 35 years and have four children together. The youngest is Jasmeet Kang; she often helps out in the restaurant, waiting tables when she's not taking classes.
From Canada, they moved to the Bay area in California. "We had a big restaurant, but we got overwhelmed and wanted a break," says Pam.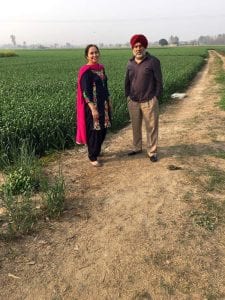 "They took everything day by day," Jasmeet says of her parents. "They worked a lot of 14-hour days and told themselves, 'It's just today.' And then the next day, 'Just today.'"
They were overworked and exhausted.
For a change of pace, they came north to clear their heads. After sampling local restaurants, they felt there was a hole in the market and began to think about opening one here.
On the last day of their Ferndale visit, they saw a man put a for rent sign in a window on Main Street. They called and met the owner 15 minutes later. His name was Herb Cole and he became a father figure to the Kangs. They're still great friends today after a dozen years of working together. "He treats us like his kids," says Pam.
After paying a deposit on the space and six months' rent in advance, the Kangs returned to the Bay Area – but didn't come back. "We were not brave enough to open [the restaurant]. We didn't know how people were going to react about the food," says Pam.
Eventually, they faced their fears and returned to Ferndale. Since then, customers have embraced them as part of the community, and they love it here.
"Whatcom County is super supportive of small business," says Jasmeet. "People actively seek out family companies and prefer eating here."
"The Ferndale community is very good," says Saab. "They remind me of my town in the Indian community, all farmers."
The Kangs are still hard workers, and the Curry House is run entirely by family. Since Saab is the only cook, any time they need time off, they close the business.
The family is kind-hearted and uses the restaurant to give a back to the community.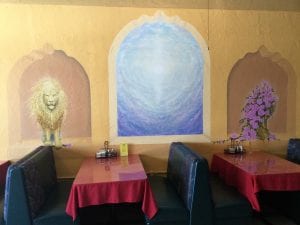 When customers can't pay for their food, "we say take the food and come back. You can [pay us back] if you want," says Saab. "They always come back. Sometimes we forget, but they don't. There are those kinds of people here, it's awesome; people are so nice here."
"Most of our customers turn into family members," says Pam. "We love that part."
The feeling among customers and the Kang family is mutual.
A few years ago, a group of diners learned that the Kangs would be out of town, closing the restaurant for a week. They asked Pam and Saab for the key. The Kangs passed it over, no questions asked, and when they returned, their patrons had spent the week painting the entire interior for them – complete with murals of a tree and a lion.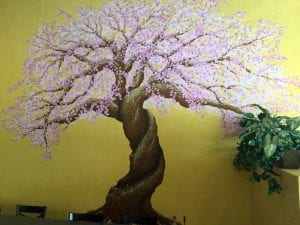 Perhaps it's the old-world cooking that creates such a bond between customers and proprietors.
"Our recipes are from India," says Pam. "We use our grandmothers' recipes, what we learned when we were little."
Saab is proud that he only cooks with healthy ingredients. The sauces are all water-based. "Our food doesn't have a single drop of oil," he says. "We don't use heavy spice."
"If you over-spice it, you ruin the whole taste," says Pam. They feel that often Indian restaurants use too much oil and spices, turning people off to Indian dishes.
Saab blends all of spices individually to order with every dish – even the chai tea. He doesn't believe in cutting corners by pre-mixing spices.
Creating fresh-to-order dishes allows them flexibility for diet restrictions and has earned them a following from patrons willing to drive for a good meal.
"We have customers from Vancouver, Seattle, Anacortes and Sedro-Woolley," says Pam. Their name is out among vegan and gluten-free circles, bringing in diners who appreciate good food despite dietary restrictions.
The Curry House serves vegan beans before meals that are loved and sought after universally, and enthusiastically among toddlers. Pam jokes that she can bring babies back to health with her beans.
Come to the Curry House for a home cooked Indian meal. It's like having a window into the home of a happy family in another life.
Pam and Saab also own the Nopal Mexican Restaurant and Cantina at 6104 Portal Way in Ferndale. Come and celebrate Cinco de Mayo with live music and the Grand Opening of their new beer garden.