If you or a loved one suffer from aortic valve disease, PeaceHealth offers the most up-to-date treatment options: surgical aortic valve replacement (SAVR) or the new less invasive option, transcatheter aortic valve replacement (TAVR).
Aortic valve stenosis is a debilitating disorder that affects 2.5 million people over the age of 75 in the U.S. Once the aortic valve becomes severely diseased and narrowed, people may experience trouble breathing, fluid retention, lightheadedness and activity intolerance. Once these symptoms occur, the only option for improving the valve function is replacing the valve. If left untreated, there is a risk that 50% of people who experience symptoms will die in two years.
In the past, valve replacement was only done with open heart surgery. Heart surgery requires an incision through the chest bone, a breathing tube, general anesthesia, four to seven days in the hospital and three to four weeks of recovery time at home. Heart surgery can be an overwhelming for many people, but now there is a less invasive option: TAVR.
TAVR is performed by a team of doctors and their support staff. At PeaceHealth, the TAVR team includes Cardiac Interventionalist Eric King, DO, and Cardiothoracic Surgeons James Douglas, MD, or David Maziarz, MD. "With any procedure, there's risk and benefits," Dr. Douglas says. "It is a big deal, but we're lucky to have a team that's now very accustomed to doing these procedures (TAVR) – and with very gratifying results."
Dr. King and Dr. Douglas both feel the PeaceHealth team has had good success for patients with the TAVR procedure. Dr. King relates, "We get very good results here. Our patients love it. They recover sooner, and it is a great to be able to offer a less invasive option for aortic valve replacement to our patients."
"A lot of people see night-and-day differences in their abilities [after TAVR]," says James Douglas, MD, cardiothoracic surgeon at PeaceHealth. Some patients "couldn't go from the bed to the bathroom without being short of breath," says Dr. Douglas. "Now they can do all those types of things."
TAVR can be a safer option for a select group of people. Today, TAVR is available for people who are moderate to high risk for surgical aortic valve replacement. According to Dr. King, "A patient with chronic obstructive pulmonary disease (COPD), kidney disease and heart disease would be considered high risk [for open heart surgery]." TAVR may be a better option for such a patient.
The TAVR procedure involves testing and appointments with the TAVR heart team to determine the best treatment option for each patient. The tests provide information on the aortic valve size and the safest way to insert the valve. According to Dr. King, one patient had both arteries in her legs blocked, so the surgeon made an incision near her collar bone, so they could get through the artery in her shoulder and deliver the TAVR valve.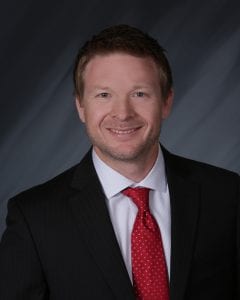 Most TAVR procedures are done by accessing a major blood vessel in the femoral artery. To replace the aortic valve, the TAVR valve is crimped on a balloon and advanced over a wire into the heart using advanced imaging techniques. Once the valve reaches the diseased aortic valve, Dr. King and Dr. Douglas position the TAVR, expand a balloon to push the old valve out of the way and place the TAVR valve. The TAVR valve works immediately.
The TAVR procedure generally takes about two hours. Many TAVR procedures are done with "light" anesthesia (where the person is awake). Patients are transferred to the intensive care unit (ICU) for recovery, and patients are able to get up and walk around about four hours after the procedure. "They usually go home two days after the procedure," says Dr. King. "We do it with light sedation, without a breathing tube in. Most of our patients are fairly awake, so the recovery is a lot easier."
Also, "Patients usually feel better when they go home than when they came in," Dr. King says. "They have more energy and no difficulty walking. They just need a week of taking it easy and no heavy lifting."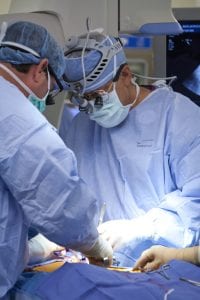 Dr. Douglas relates that the TAVR procedure is "a procedure that has some serious upfront risk, but a much, much easier recovery course than open heart surgery." He added, "Rehabilitation is primarily based on just recovering from preexisting problems, not recovering from the procedure itself."
While recovering from the procedure may only take a week, recovering from having severe aortic stenosis may take 6 months to a year. According to Kim Einfeld, RN, heart valve coordinator at PeaceHealth, one patient was debilitated before TVAR "and wasn't getting around a whole lot, even doing her gardening on her porch was a bit of a push." A year after the TAVR procedure, "She said, 'I feel like a new woman. I can breathe again,'" Einfeld recalls. "She was able to get back to her artwork and gardening and is not anxious like she was prior to TAVR." Enfield says she has a lot of similar stories. "One of the most rewarding parts of being a nurse is seeing patients again after a year."
"I think we would all agree this procedure is here to stay," says Dr. Douglas. "Its use is going to expand over time, to be offered to less (surgically) severe and younger patients and is going to have time to improve. The technology is improving rapidly."
If you would like to learn more about the TAVR procedure, contact the PeaceHealth St. Joseph Cardiovascular Center.
Sponsored