Submitted by: Whatcom County Library System
The Whatcom County Library System (WCLS) is asking the community to search through their family photo albums and personal memory banks to find items to add to the library's history archive. As part of the 75th Anniversary Celebration during 2019, WCLS is holding multiple "History Harvest" events at its libraries hoping to gather video recordings of library stories and digital scans of photographs celebrating the long history of the libraries in the community.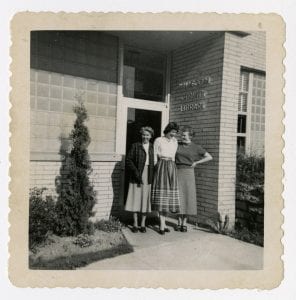 The project coordinator, Erin Suda tells us, "History is like a detective mystery and we are looking for the clues to the WCLS story." WCLS was started in 1944 with the first bookmobile starting service in 1947. WCLS has grown from a six-person staff in the basement of the Bellingham Library, to a system that serves communities and individuals throughout Whatcom County with ten branches and a Library Express, two days of Bookmobile routes, one day of jail services, mobile services to those who cannot travel, and over 150 staff – it's an exciting story of growth and balancing the needs of lots of different groups and people throughout Whatcom County.
"While our administration and branches have quite a bit of history documented, we are looking for the perspective of the patrons and families that have used, supported and built the library system that we have today," adds Suda.
Over the past 75 years WCLS has been an active part of the county, and by adding your stories, they hope to collect a bountiful history. There are three History Harvest events scheduled for the spring quarter: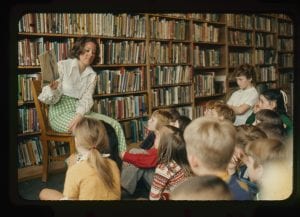 Everson Branch: Sunday, March 31, 2:00 – 5:00 PM
104 Kirsch Drive, Everson, WA 98247, (360) 966-5100
Lynden Branch: Saturday, April 13, 2:00 – 5:00 PM
216 4th St., Lynden, WA 98264, (360) 354-4883
Ferndale Branch: Saturday, May 18, 2:00 – 5:00 PM
2125 Main St., Ferndale, WA 98248, (360) 384-3647
The friendly library staff will be on hand to record your stories and scan your photos, articles, and other memorabilia during these events. There will be refreshments available and a display of historic photos.
People who bring in their personal photos will retain copyright. The library staff will ask permission to scan, upload and share them for historical and educational purposes. All of the items collected during the History Harvest events will be added to a digital collection hosted on the Washington Rural Heritage website. The project is supported by a grant from the Washington State Library with funding from the Institute of Museum and Library Services.
If you are unable to attend one of the scheduled "History Harvest" events, Erin Suda and her collaborators would still like to hear from you. They are scheduling smaller group and individual history harvest appointments throughout the county. To make an inquiry or appointment, call Suda at the Deming Library, (360) 592-2422 or email erin.suda@wcls.org.
About the Whatcom County Library System
For 75 years, Whatcom County Library System (WCLS) has been sharing stories with everyone in Whatcom County; connecting residents with information, ideas, and community. WCLS circulates more than 2 million items annually through 10 branches, the bookmobile, and a Library Express location on Northwest Drive. Residents have access to WCLS's rich and curated collection of books in print and digital formats, music and movies, online digital services, fun events for every age, and public meeting spaces. Visit in person or online at WCLS.org.