Submitted by: Jansen Art Center
No need to travel to have fun this Spring Break! The Jansen Art Center is hosting its Spring Break Camp for ages 6 to 14, which coincides with the Lynden Spring Break schedule.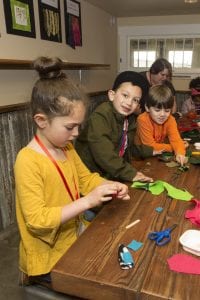 Workshops will be offered April 2-4 and kids can take either 1 or 2 per day between 9:00 a.m. and 12:00 p.m. These workshops represent the art studios at the Jansen Art Center and are a combination of ceramics, dance, music, painting, textiles, jewelry, multi-media art, and literary arts. This is a great way to keep kids busy during the break while allowing them to express and explore creativity in new ways.
Beyond Spring Break, there are more classes offered at the Jansen Art Center for kids and teens every quarter. A part of the mission at the Jansen Art Center is to engage the community in the arts, and a large part of that is giving kids opportunities to try a variety of art forms. Kids Do Art! events happen four times throughout the year: Spring Break Workshops, Summer Camp, Fall Open House, and the Winter Art Jingle.
Visit the Jansen Art Center website for more information.