The Bellingham Youth Media Project (BYMP) is an innovative educational outreach organization aimed at encouraging middle and high school students to use digital media to tell their stories. Media educators Lauren McClanahan and Lucas Holtgeerts work closely with teachers to help create curricula that infuses technology in creative and meaningful ways.
McClanahan's interest in photography and storytelling began at an early age, as she learned the media business from her father, who worked at a local television station in Columbus, Ohio. She has long been interested in exploring what media can do and its impact on people and society.
Holtgeerts is a member of the Media Arts Cadres for the state of Washington. This group creates and revises K-12 media arts standards for the Office of Superintendent of Public Instruction. He also works for Veritas Media Productions, a local video production company that helps businesses tell their stories.
"I learned that nothing you see on the screen is accidental," says McClanahan, "that everything is constructed to hopefully get you to feel the way the producer wants you to feel."
In graduate school, she discovered the term "critical literacy," which means to ask critical questions about the media you consume. Following are a few of those critical literacy questions that everyone can ask themselves when consuming media so they understand how it's constructed:
Who produced this?
Who paid for it?
Who's included in this message?
Who are they not including?
What is the producer of this content asking you to do, to believe, or to feel?
Who benefits from this message and who doesn't?
These are essential questions of inclusion, purpose, intent and whether what is being produced is situated in fact.
McClanahan, a professor in the Secondary Education Department at Western Washington University, wanted to bring similar questions to K-12 students. She now partners with teachers – and guides future teachers – on how to engage students in telling their stories.
"Film and video are arguably the most powerful form of media in our world today," says Holtgeerts, "and every student deserves access to the skills for effectively having their voice heard in the world they are growing up in."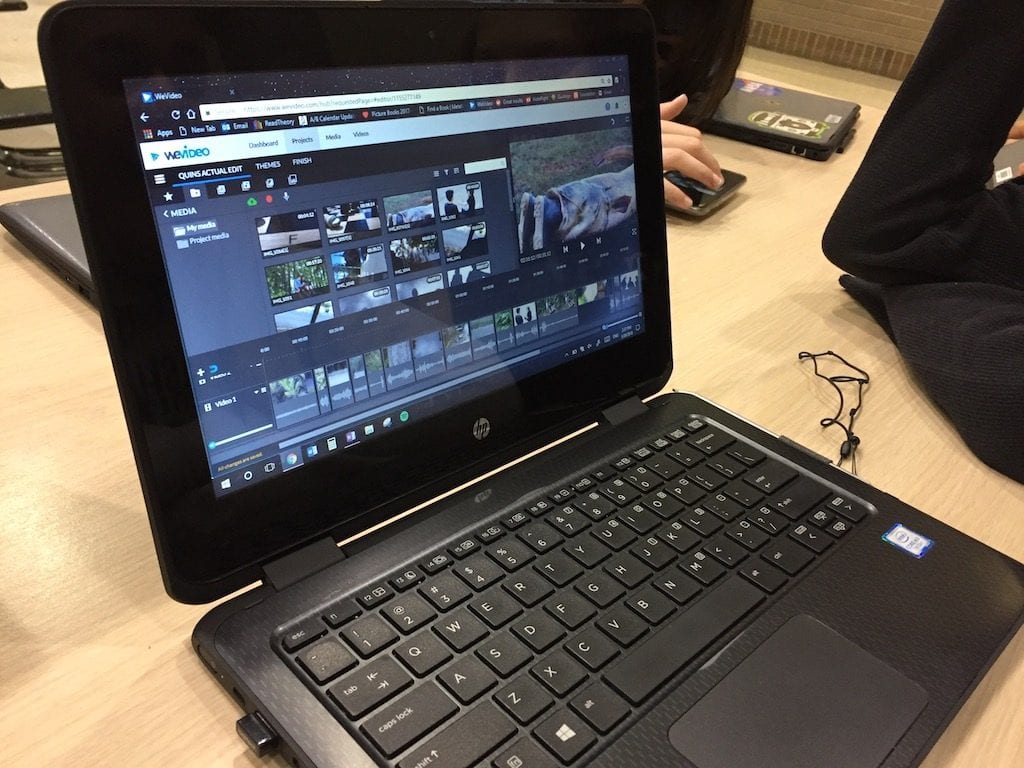 Currently, BYMP works with Kulshan Middle School teachers Jodie Schoolcraft and Tim Cosgrove, who have transformed the way they teach their language arts classes through storytelling and filmmaking. They still engage in the reading and writing process, but now through film and other forms of digital media.
Thanks to a generous grant from the Bellingham Schools Foundation, BYMP and KMS will engage in a special project this spring, which revolves around the theme of "The Way We See It," where students will be invited to explore a problem in our community, or an individual or group who is making a positive impact.
"Most of our projects are only possible because of the community's continuing support of the Bellingham School District, especially the tech initiative," say Holtgeerts. "Thank you to everyone who voted yes!"
Embedded in that theme is the question, "What does it mean to be a good human?" The students work in small groups, and in the spring, will organize and host a film festival where the best films will be shown, along with student-produced ads for local sponsors.
Similar festivals have been held in the past. "There's always one or two projects that are next-level amazing," says McClanahan.
"It's all about enabling students with the tools to create media and not just consume it," Holtgeerts says.
For McClanahan, the moment it's all worth it is when she sees the students watching their own films, and the pride they have in what they've created. "They are cheering and yelling and high-fiving," she says. (See examples here.)
Additionally, the Bellingham Youth Media Project has been fortunate to partner with the Pickford Film Center (who serves as their fiscal sponsor) on various other projects. Last year, BYMP worked with more than 2,000 middle school students as part of the Pickford's "Doc Ed" series, where students first learn about critical media literacy, and then take a field trip to the Pickford to watch a film, followed by a critique.
In partnership with the Pickford Film Center, the BYMP offers media literacy workshops for teachers, focusing on critical media literacy and how to create and edit films with their students. The purpose of these workshops is to create critical media consumers, because if one can learn to be a critical consumer of media, one can also become a critical producer. BYMP is also working with local elementary schools where students are documenting their home lives by creating photo essays of their families.
McClanahan and Holtgeerts hope to grow the Bellingham Youth Film Festival, which invites students from across Whatcom County to submit their films. Furthermore, McClanahan's goal for BYMP is two-fold: 1) working with more teachers to develop further curriculum that infuses media literacy and production in meaningful authentic projects, which focus on real problems and real solutions in our community, and 2) to develop a center where students can come after school and on weekends to work on their own media projects, such as films, podcasts, music, and digital photography.
The BYMP would provide computers, editing software, cameras, and microphones. McClanahan mentioned that Chicago and Oakland have great models of such centers. She would love to partner with local film producers, graphic designers and sound engineers that might want to offer a workshop to students or even mentor students. Her goal is also to find funding to offer their services to as many schools as possible in Whatcom County.
www.bellinghamyouthmediaproject.org
Follow BYMP on Facebook and Instagram.