Art is a cornerstone of our community, but few know why. Some say it's the glacial fed waters pouring down from Mount Baker and the North Cascades, while others claim it's the salt air and the knowledge that from the shoreline, adventures to anywhere in the world are possible. Whatever it is, it's undeniable that Whatcom County is an artist's haven, acting as the perfect muse for creativity and beauty. While hundreds of artists call the region home, one local is carving out his own legacy – one rock at a time. If you haven't yet heard of Ferndale's Josh Henrie, keep an eye open for this up-and-coming artist's work.

Josh was born in Bellingham, raised in Everson and has lived in Whatcom County for all but three of his 41 years of life. Growing up, he was a painter. And he drew on everything, from the walls to canvas and paper. It wasn't until he left the region and attended college at Washington State University, then Cornish in Seattle, that he found his true artistic passion. Thanks to a professor, he was introduced to stone carving. He learned the basics and hasn't looked back. For the past 21 years, he has been honing his mostly self-taught craft and wowing all who see his work.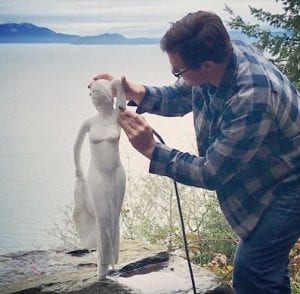 "The Northwest is truly my inspiration, from the people who live here, the wildlife, nature, the darkness of winter and the perfect summers," said Josh when asked what motivates him. "The ocean has always been a big part of my life, and I will always live close to it. I honestly believe that there's beauty in everything we see, and I bring that out in my work by sharing the marriage between society and nature."
Carving stones is not an easy task. As Josh shared with Whatcom Talk, the biggest challenge is that you are always taking away rock – never able to add more. After some learning experiences, Josh has come to understand that while you may have an idea on what your carving will be, the stone has the ultimate say on what the sculpture wants to be. When carving, Josh has resigned himself to listen to the texture and soul of the stone, as it speaks volumes. As he says, it is his job to listen and release it.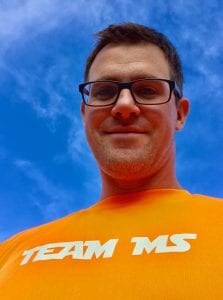 While Josh has numerous sculptures under his belt, his favorite so far is titled "Soulmates." He enjoys it for its technical skill, simplicity and lifelike quality. It depicts two souls that will be together for the rest of their lives. Josh created the masterpiece from marble, basalt and granite. Standing four feet tall, this piece opened the door for his imagination to start down the path of human and wildlife interaction.
"Starting in 2018, I've been mixing people with wildlife in my sculptures, showing the interaction between them," Josh said. "A lot of this is inspired by the closeness of our cities to our forests, mountains and ocean. We live within each other and that expression is what truly comes out in my latest works."
Josh is like many artists, a very passionate and caring person. While carving stones and painting pictures is something that brings him joy, he has also dedicated himself to raising awareness of an important issue. Josh's wife has Multiple Sclerosis, also known as MS. Since he met his wife, he has watched as MS tries to overtake her body and break her down from the inside. Thankfully, with research and millions in donations there are newer medications that have come out to help with the disease.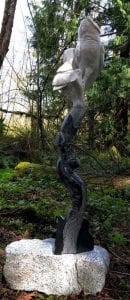 "I have always been gifted with an athletic background, and I'm putting it to good use starting this year," Josh said. "I'll be running 100 miles from April 5 at 10:00 a.m., along the Bellingham waterfront to April 6, hoping to finish the run within 24 hours. If I time it right, I will also do the three-mile walk with my wife at the Bellingham MS walk for 2019."
This audacious goal is selfless. The only thing he wants to do is bring as much awareness and fundraising to the Finish MS as he can. His goal is to raise $10,000 from donations to beat MS and help others dealing with this terrible disease – and it doesn't stop there.
Once Josh passes his goal, he'll continue with races and community promotion, spreading awareness in the best, most positive way he can. If interested in helping, please show your support by donating to the National MS Society. You can also follow Josh on Facebook, donate to his team or his Finish MS fundraiser that he participates in annually.
Like many in the region, nature is a part of Josh's identity, something as necessary as the oxygen we breathe. We need our community as much as we need the great outdoors, a symbiotic relationship that Josh's sculptures capture so beautifully. On Josh's 100 mile run for MS, he'll be connecting with the community and with the natural beauty of the area, something that both inspires and calms him.
"Our nature and surroundings are so unspeakably beautiful and the culture matches it," Josh shared. "It's majestic mountains spread high above the tidal flats that calmly stroll into the unlimited power of the ocean. You can't escape creativity right in front of you, even when you're in the most isolated terrain of the Cascades."
You can find Josh Henrie's artwork in Fairhaven at Chuckanut Gallery, Matzke Fine Art Gallery and Sculpture Park on Camano Island, and also at the White Bird Gallery in Cannon Beach, Oregon. For more examples of his work and the latest information about him, explore his website, joshhenrie.com.